Update 3/27/2020:  Confirmed cases 594,280 with 27,246 fatalities. The US has 102,338 cases with 1,603 fatalities. Washington state has 3,700 cases with 175 fatalities. The Yakima Health District has 72 cases with 2 fatalities. The Benton Franklin Health District has 54 confirmed cases and 5 fatalities. The US Army Corps of Engineer will convert CenturyLnik Field into a temporary field hospital for non-coronavirus patients. Rhode Island announces that National Guard will go door to door in coastal communities checking for travelers from New York. The mayor of New Orleans blames President Trump for her not cancelling Mardi Gras (which became an incubator of the virus). Italy has 86,498 cases (becoming the second country to exceed China's total) and 9,134 fatalities. Spain has 65,719 cases. Germany has 50,871 cases. The UK prime minister and UK health secretary have tested positive. Residents of Hubei province have rioted against police forces of neighboring Jiangxi province, who had set up roadblocks to prevent the people of Hubei from returning to work in Jiangxi. Ireland warns that its ICUs will be at capacity in a number of days. Bolivia implements extreme quarantine measures. A new study indicated that the coronavirus may halve the testosterone levels of males – long term studies needed.
Update 3/26/2020:  Confirmed cases 529,071 with 23,967 fatalities. The US has 83,144 cases, surpassing China's total for most cases in the world, with 1,201 fatalities. Washington state has 3,012 cases with 148 fatalities. Washington state's infection rate may be slowing, but the stay at home order may be extended. The Yakima Health District has 53 cases with 2 fatalities. The Virgina Mason Memorial hospital in Yakima is near capacity. The Benton Franklin Health District has 26 confirmed cases and another 11 probable cases along with 4 fatalities. New York state currently has 5,327 hospitalized cases with 1,290 being in ICU, overwhelming some hospitals. Refrigerated trailers are being deployed for use as temporary morgues. US unemployment claims hit a weekly record of 3.3 million. Louisiana appears to be adding cases faster than anywhere else in the world. The US Navy reports an outbreak on the aircraft carrier Theodore Roosevelt. Spain jumps to 56,188 cases. Italy has 80,589 cases with 8,215 fatalities.
Update 3/25/2020:  Confirmed cases 471,035 with 21,283 fatalities. The US has 68,203 cases with 1,027 fatalities. Washington State has 2,588 cases with 132 fatalities. Benton Franklin Health District has 21 cases with 4 fatalities. Yakima Health District has 53 cases. Washington state closes all public lands for two weeks because of crowded trails and large gatherings. The US Army's 627th Hospital Center will deploy to Washington State to back up local doctors and nurses. Most Pacific Northwest national parks close. Alaska records first Covid-19 death. Maryland closes schools until at least April 24. Spain has over 49,000 cases and 3,647 fatalities, surpassing China's total deaths. Italy over 74,000 should surpass China's total cases in a day or two; Italy has over 7,500 fatalities. Iran passes 27,000 cases and 2,000 fatalities. Thailand declares a state of emergency. The US Congress agreed on a $2 trillion bailout package. Nearly one third of the global population is currently locked down.
Update 3/24/2020:  Confirmed cases 422,613 with 18,891 fatalities. The US has 54,808 cases with 775 fatalities, having added over 100 deaths yesterday for the first time and 222 today. Washington state has 2,469 cases with 123 fatalities. In Washington state's Yakima county, enforcement of the stay at home order going into effect tomorrow will begin with education but will move to tickets or citations as necessary. Yakima Health District has 47 cases with one fatality. The Benton-Franklin Health District has 19 cases with 3 fatalities. Yakima Valley health care systems are seeking donations of supplies. 16 states have issued stay at home orders. Anyone leaving the NYC metro area has been asked to self-quarantine for 14 days. The first child under the age of 18 to die from the novel coronavirus in the US has passed away in Los Angeles. Spain has well over 39,000 cases, after a big jump today. Italy has over 69,000 cases with 6,820 fatalities. The 2020 Tokyo Olympic games have been postponed for one year. India orders a 21 day lockdown for all 1.3 billion citizens.
Update 3/23/2020:  Confirmed cases 378,741 with 16,501 fatalities. The US has 43,718 cases with 551 fatalities. Last night Yakima County issued a stay at home order for all county residents effective immediately. Washington state has 2,221 cases with 110 fatalities. Washington state issues a stay at home order to last at least two weeks beginning in 48 hours. Yakima health district now has 32 cases. The Benton-Franklin Health District has 16 cases with 3 fatalities. Indiana has issued a stay at home order. Michigan issues shelter in place order. Maryland has closed non-essential businesses. Italy is closing in on 64,000 cases. Spain 33,000. Germany 29,000. Iran 23,000. France 20,000. Mexico is handing over hospital control to the military. The UK has issued a stay at home order. South Africa will begin a 21-day lockdown on Thursday. Greece imposes lockdown. Nigeria closes borders.
Update 3/22/2020:  Confirmed cases 336,075 with 14,613 fatalities. The US has 32,783 cases with 416 fatalities. Nearly 25% of Americans are under stay at home orders. Washington state has 1996 cases with 95 fatalities. The Benton-Franklin Health District has 11 cases with three fatalities. Ohio, Louisiana and Delaware issue stay at home orders. Senator Rand Paul has tested positive. Italy has nearly 60,000 cases and bans movement outside of people's home municipality. Spain has over 28,000 cases with 1725 fatalities. Germany has over 24,000 cases, and bans gatherings of more than two people. Chancellor Merkel has been quarantined after contact with an infected person. UK PM Johnson warns that the National Health Service may be overwhelmed in just two weeks. People at high risk in the UK will get letters telling them to stay at home for twelve weeks. India will have a test curfew today from 7am to 9pm to see how well it works.
Update 3/21/2020: Confirmed cases 307,720 with 13,051 fatalities. The US has 26,711 cases with 341 fatalities. Washington state has 1524 cases with 83 fatalities. The Benton-Franklin Health District has ten cases with three fatalities. Yakima Health District has twenty cases. Yakima's Virginia Mason Hospital called on people in Yakima County to stay at home to prevent local hospitals from being overwhelmed. On Friday, New York, New Jersey, Connecticut and Illinois joined California in requiring residents to stay home and only go outside for necessities such as food and medicine. US Army Corp of Engineers is preparing to renovate buildings to prepare more space for COVID-19 patients. Italy has over 53,000 cases with 4,825 fatalities. Italy has ordered all non-essential businesses to close. Germany and Iran have exceeded 20,000 cases. Spain is over 25,000 cases. Jakarta, Indonesia declares a state of emergency. Bangkok, Thailand closes most shops. NATO cancels Defender Europe 2020 military exercise. Italy is now also using its army to staff critical manufacturers. British technology firm Smiths Group says it is making the details of one of its ventilators available for other manufacturers to produce, in an attempt to tackle the shortage of equipment. Western medicine is just starting to look into chloroquine as a possible treatment, despite it being reported from China as an effective treatment a month ago and longer.
Update 3/20/2020: Confirmed cases 275,118 with 11,376 fatalities. The US has 19,375 cases with 256 fatalities, adding over 5,000 cases in the past twenty four hours. A staffer for Vice President Pence has tested positive. Yesterday evening the Washington state governor halted all elective surgeries and dental work, unless delaying would cause harm. The governor also requested that one of the navy hospital ships be sent to Seattle because area hospitals would be "in crisis by the end of the month." Also yesterday evening, the California governor issued a state-wide "stay at home" order of indefinite length. NY governor orders 100% of workers to stay home and all non-essential businesses to close. All non-essential traffic over the US-Mexico border has been halted. Italy is now using the army to enforce coronavirus lockdown in Lombardy. Italy nearly 6,000 cases today. In France, citizens must fill out a form explaining why they are outside and present it to the police on demand. Germany adds over 4,500 new cases. Argentina goes on lockdown through March 31st.
Update 3/19/2020: Confirmed cases 244,919 with 10,031 fatalities. The US has 13,816 cases with 207 fatalities. Late last night a second US Congressman tested positive. Locally, the Benton Franklin Health District added two additional positive cases. Hospitals in the Seattle area are running out of basic supplies like masks and test sample preservation fluid; workers are having to reuse their masks. King County, Washington is building a temporary field hospital at the Shoreline soccer field. Florida, Alabama and Texas have shut down popular spring break beaches. The entire Georgia state legislature has been asked to self-quarantine. NY institutes a 90-day relief period to delay mortgage payments due to financial hardship. Amazon shut a NY warehouse for cleaning after a worker tested positive. 2,000 national guardsman have been deployed across the US. US to add 30-70 million barrels to strategic oil reserve. The US State Department issues a Level 4 travel advisory today applying to all international travel, instructing Americans abroad to either return home or to shelter in place. The US military is pausing troop movements into Afghanistan, which may cause extended deployments for those already in country. The US census bureau suspended field operations yesterday. TSA officers in Florida, NJ, and NYC have tested positive. Carnival cruise lines has offered its ships to the US as temporary hospitals. Spain adds another 3,308 cases to bring its total to 18,077. First coronavirus death in Northern Ireland. Russia and Mexico report their first deaths. Australia and New Zealand close their borders to foreign visitors. Italy adds more 5,322 new cases, bringing their total to 41,035 with 3,405 total fatalities – exceeding China's total deaths.
Update 3/18/2020: Confirmed cases 218,723 with 8,943 fatalities. The US has 9,261 cases with 150 fatalities, adding over 2,700 cases. There are now cases in all 50 states. In this morning's briefing, President Trump says that he will invoke the Defense Production Act to marshal the production/manufacture of needed supplies within the country. Locally, the Benton-Franklin Health District announced its first death from the virus. NY state says businesses must have more than 50% of workforce working outside of their home. The mayor of NYC claims that the military's assistance is necessary to combat the virus in the city. Palm Springs, CA has issued a shelter in place order. All US automakers to close factories. Florida representative Mario Diaz-Balart is the first member of the US Congress to test positive. The NY Stock Exchange is temporarily closing the trading floor, and all transactions will take place electronically. JP Morgan is closing 1000 branches across the US. US suspending visa services in most countries. US Restaurant Association projects loss of five to seven million jobs over three months. The American Dental Association is recommended the postponement of all elective procedures. Germany has passed 10,000 cases. The US and Canada have mutually agreed to close the border to non-essential traffic. The UK reported 700 cases in the last 24 hours, bringing their total over 2,600. The UK has ordered all schools to close. Italy adds more than 4,200 new cases with over 35,000 total cases and may exceed China's fatalities by tomorrow. Spain and Germany both add over 2,700 new cases. Iran and France add more than 1,200 new cases each.
Update 3/17/2020: Confirmed cases 198,164 with 7,965 fatalities. The US has 6,437 cases with 109 fatalities. Washington state has 1,012 cases and 52 fatalities. Locally, the Benton-Franklin Health Department has confirmed its first case, though at least one patient from out of the area has been previously hospitalized in the tri-cities. Yakima Health District has five cases. New York state's unemployment website was unavailable after being swarmed with tens of thousands of unemployment seekers. Florida closing all bars and nightclubs for 30 days, but allowing restaurants to remain open. New York City says a shelter in place order is coming in the next 48 hours, but the mayor says that that is not a quarantine. The US is postponing the April 15 tax-payment deadline by 90 days. The US Navy is readying its two hospital ships to help with response. Amazon announces they are suspending shipment of all non-medical or household staples, or at least "temporarily prioritizing" them. Macy's closes stores nationwide. The UK changes its approach from doing little in order to develop herd immunity to encouraging "extreme social distancing" after a study said hundred of thousands would die if they didn't change. Italy is allowing 10,000 student doctors to graduate without final exams in order to cope with the pandemic. Italy adds another 3500 cases, passing 31,000 total cases and 345 deaths. Italy adds threat of 12 years imprisonment for violating quarantine if they are judged to be reckless. The EU has closed the external borders to non-EU citizens.
Update 3/16/2020: Confirmed cases 182,383 with 7,144 fatalities. The US has 4,599 cases with 86 fatalities. The US has added nearly a thousand new cases in the last 24 hours and 18 deaths. US Surgeon General Jerry Adams said that the country will likely need 6-8 weeks for the virus to run its course. The US Supreme Court is postponing oral arguments. Washington state has 769 cases with 42 fatalities. King County Washington's Executive Director said late Sunday night that "it's time, right now, for people to assume that they and everyone they meet is infected." Pennsylvania is shutting down all non-essential stores, bars and restaurants at midnight; pharmacies, grocery stores and medical facilities may remain open. US airlines have asked the government for $50 billion in aid for passenger carriers and an additional $8 billion for cargo lines in addition to tens of billions in tax relief in order to make it through the year. Amtrak and US airports are also seeking aid. The number of infections outside of China is now greater than the number reported inside China. Italy has nearly 28,000 cases with 2158 fatalities, but the Lombardy region may be peaking. Canada has closed its borders to all non-citizens with the exception of US citizens.
Update 3/15/2020: Confirmed cases 169,612 with 6,518 fatalities. The US has 3,782 cases with 69 fatalities. WA Gov. announced that he will be signing an emergency proclamation to temporarily shut down bars and restaurants. Oregon state confirms its first fatality. The CDC is recommending in-person events with 50 or more people should be canceled in the next 8 weeks. Alabama, Alaska, Delaware, Florida, Kentucky, Illinois, Louisiana, Maryland, Michigan, New Mexico, North Carolina, Ohio, Oregon, Pennsylvania, South Dakota, Utah, Virginia, West Virginia, Washington and Wisconsin have made plans to close all schools. California issues an executive order allowing the government to commandeer hotels/motels for COVID-19 patients. West Virginia is the only remaining state without a confirmed case. Sweden and the Netherlands have exceeded 1,000 cases. Belgium and Austria will probably exceed 1,000 tomorrow. Malaysia nearly doubled its cases overnight to 428. Iran has nearly 14,000 cases and Spain over 7,700 as both add over a thousand new cases. Italy jumps 3,500 cases to almost 25,000 with 1,809 fatalities.
Update 3/14/2020: Confirmed cases 156,730 with 5,839 fatalities. The US has 2,976 cases with 60 fatalities. The WA state dept of health has asked the federal government to help with a shortage of personal protective equipment, including gowns, gloves, face shields, surgical masks, and N95 masks. Mississippi declares a state of emergency. Italy now has over 21,000 cases  and over 1,400 fatalities. The mayor of New York City says he hopes someone nationalizes or federalizes key factories and industries. France has closes all bars, cafes, discos, cinemas, and restaurants. Norway, the UK, and Switzerland have all passed 1,000 cases. Sweden and the Netherlands will probably exceed 1,000 tomorrow. Spain has banned people from leaving their homes except work, buying food and supplies, and going to a hospital.
Update 3/13/2020: Confirmed cases 145,640 with 5,436 fatalities. The US has 2,289 cases with 50 fatalities. President Trump declares a national emergency. Confirmed cases are now in 46 states. Michigan, New Mexico, Oregon, Maryland, and Ohio states have closed all schools. Washington state closes all K-12 schools from next week through April. WA state has 568 cases in 19 of 39 counties. In Washington state, EvergreenHealth in Kirkland is suspending elective surgeries to conserve resources, supplies, and free up staff. The hospital will continue surgery for people in critical condition. The Los Angeles and San Diego school districts are closed for two weeks. Louisiana has delayed its presidential primary. Texas declares a state of disaster. Maryland and Ohio have activated National Guard. Italy now has 17,660 cases with 1,266 fatalities. Italy is now reporting cases of people stuck at home with the corpses of family members for days, unable to get funeral homes to take the bodies. The USO is closing it's airport centers in the US beginning today and evaluating whether to cancel or postpone entertainment tours. India announces its first coronavirus death. Spain declares state of emergency. The Czech Republic and Slovakia have closed their borders. Romania's prime minister and his entire cabinet have been placed in quarantine. Germany is offering unlimited loans to businesses in order to get them through the pandemic. France has banned gatherings of over 100 people. 2020 Masters golf tournament has been postponed. Boston marathon postponed. Austria cancels flight to/from Spain, France and Italy.
Update 3/12/2020: Confirmed cases 134,768 with 4,983 fatalities.  The US has 1,762 cases with 41 fatalities. Washington state has 457 cases with 31 fatalities. It is now in 15 of 39 counties in Washington after Yakima county confirmed its first two cases, and Columbia county confirmed its first case. Yakima county declares a state of emergency. Washington governor closes all schools in King, Pierce, and Snohomish counties, public and private, K-12 to shut from March 17 through April 27. Carnival cruise lines has suspended cruise operations for sixty days. Businesses in Seattle continue to suffer impacts from the pandemic; chef Tom Douglas, owner of several Seattle restaurants, has suspended operations because of slow business. Seattle says they will run of personal protective equipment for healthcare workers if they don't receive replenishment from the national stockpile soon. A staffer in Senator Maria Cantwell's office has tested positive.  As a result, all Capitol tours are suspended, as well as public access. California released a statement that said non-essential gatherings of more than 250 people should be postponed and smaller events could only proceed if people distance themselves from each other by at least 6 feet. Oregon bans gatherings of 250 people or more statewide until April 8. Ohio is closing all K-12 schools for three weeks beginning on Monday. Maryland is also closing K-12 schools. The US State Department has issued a Level 3 Global Health Advisory advising citizens to reconsider travel abroad. Wall Street trading was paused by an automatic cutout when the S&P fell 7%. Miami Open tournament suspended. European soccer league postponing 2020 tournament. US professional soccer league is suspending play. The NHL has paused the season. Rumors that MLB will delay the start of the season. The NCAA cancels men's and women's tournaments after earlier saying they would be played without an audience. The Olympic torch was lit but with only 100 allowed spectators instead of the usual 12,000. India suspends all visas for a month. Italy now has over 15,000 cases and over 1,000 fatalities. Ireland announced that all schools, universities and other public facilities will be closed and teaching will be done online or remotely for the next two weeks. Norwegian Air has cut 4,000 flights and laid off half of its employees because of travel restrictions. France will close schools and universities beginning on Monday.
Update 3/11/2020: Confirmed cases 126,273 with 4,633 fatalities. The WHO declares a global pandemic. "We are deeply concerned both by the alarming levels of spread and severity and by the alarming levels of inaction," WHO Director-General Tedros Adhanom Ghebreyesus said. The US has 1,322 cases with 38 fatalities. Trump considering national emergency declaration. The US has banned all travel from the EU; travel from UK still allowed. The Washington governor announces a ban this morning on gatherings and events of more than 250 people in the three counties of the Seattle metropolitan area – King, Pierce, and Snohomish counties – home to approximately 4 million people. King County officials go further and prohibit gathers of fewer than 250 people unless organizers can prove they have followed public health recommended steps. At least three restaurants in Seattle have permanently closed already because of coronavirus effects on customer attendance. All Seattle, Lake Washington and Bellevue schools will close for at least two weeks, beginning on Friday. The CDC has released a list of recommendations (pdf) for King, Pierce and Snohomish County residents for the next 30 days.  San Francisco health officials ban gatherings exceeding 1,000 people.  CDC Director says "the worst yet to come." The deployment of the National Guard to New Rochelle, NY by Governor Cuomo continues to be confusing as he says, "We are not containing people," Cuomo said. "We are containing facilities." It is unclear where the facilities would go if not kept stationary in the one mile containment zone, nor how people are protected if infected people are not being contained. The NCAA basketball tournament will only have essential staff and limited family in attendance. The NBA has suspended the basketball season after tonight's games. Washington, D.C. declares a state of emergency. Poland is closing all schools, universities, cinemas, theaters and museums for two weeks. Italy now has 12,462 cases with 827 fatalities. Italy is closing all stores in the country other than those that sell food and medicine. All restaurants and bars must close, too. Iran has 9,000 cases. Denmark is closing all schools and universities until further notice. There are coronavirus cases in 122 countries around the world.
Update 3/10/2020: Confirmed cases 119,179 with 4,295 fatalities. New Jersey declares state of emergency. The US has 978 cases with 30 fatalities. There are confirmed cases in 36 states plus the District of Columbia. In Washington state, ten of thirty-nine counties have confirmed cases, plus five additional cases with no location provided. WA governor says state is expanding benefits to cover workers who need to isolate, quarantine or are temporarily laid off. NY state deploys National Guard to create one-mile containment area in New Rochelle. Massachusets declares a state of emergency, and Boston cancelled the St. Patrick's Day parade. The CDC Director tells Congress that "the US is beyond virus containment in some areas." Italy now exceeds 10,000 cases with 631 fatalities. Italy announces that payments on mortgages will be suspended across the country. Italian lenders are offering debt moratoriums for small firms and households. Spain surges past France and Germany as it adds over 400 new cases today. Austria bans all travelers from Italy in spite of the EU Schengen Area open borders agreement. Denmark and Serbia have cancelled all inbound flights from Italy.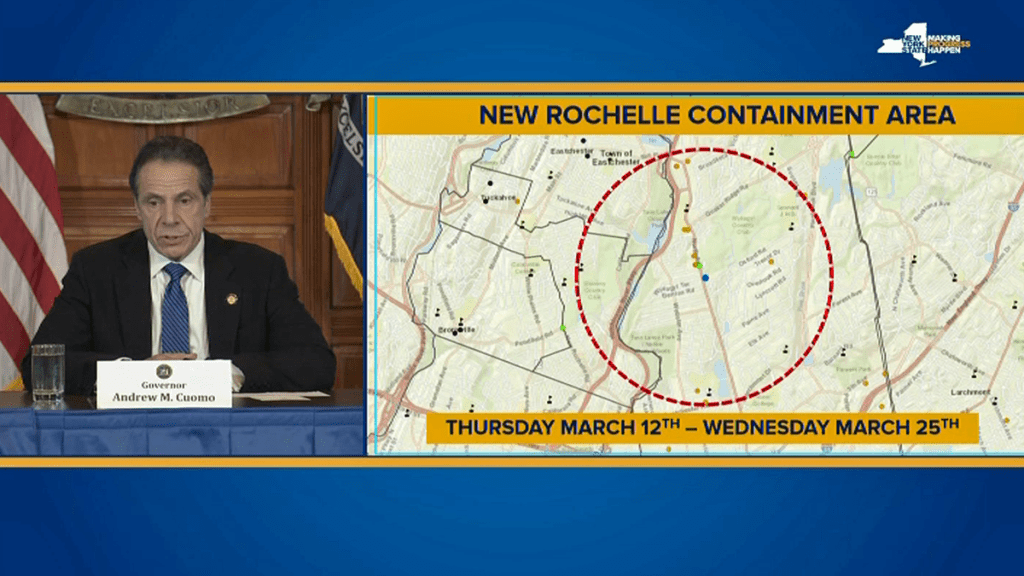 Update 3/9/2020: Confirmed cases 114,285 with 4,009 fatalities. The US has 624 cases with 26 fatalities. Iran joins South Korea with over 7,000 cases; Italy now has over 9,000. Spain joins Germany and France with over 1,000 cases. Amtrak suspends non-stop train service between NYC and Washington, D.C. US State Department warns Americans not to travel by cruise ship. The governor of Washington warns that he is weighing "mandatory measures." The WHO in a press conference today says it is "starting to look like a pandemic" and also called it a "global epidemic." Italy has quarantined the entire country, closing schools and universities until April 3rd; likewise, all sporting events have been cancelled, and people are only permitted to travel for work and emergencies.
Update 3/8/2020: Confirmed cases 109,838 with 3,805 fatalities. The US has 529 cases with 21 fatalities. There are now confirmed cases in 32 states. The Grand Princess cruise ship with 21 confirmed cases aboard will be allowed to dock in Oakland, and passengers will be taken to quarantine. Italy has quarantined 16 million people in an effort to slow the spread of the virus, and has surpassed South Korea (7,313) having 7,375 cases. France and Germany have each exceeded 1,000 cases.
Update 3/7/2020: Confirmed cases 104,102 with 3,526 fatalities. The US has 335 cases with 17 fatalities after two deaths were reported in Florida overnight. South Korea now has over 7,000 cases. Iran has 5,823 cases. A five story building used for quarantine in China has collapsed, trapping seventy.
Update 3/6/2020: Confirmed cases 102,224 with 3,495 fatalities. The US now has 321 confirmed cases and 15 deaths. The US now has cases in 22 states. The University of Washington has cancelled classes until the end of the winter quarter. On the Grand Princess cruise ship off the California coast, 19 crew and 2 passengers have tested positive for Covid-19. S Korea – 6,767. Iran – 4,747. Italy – 4,636. Germany and France are each over 650 cases. A cruise ship traveling the Nile River in Egypt has confirmed 12 cases. Switzerland has its first fatality from COVID-19. The UK has its first two fatalities in the past 24 hours.
Update 3/5/2020: Confirmed cases 96,946 with 3,310 fatalities. South Korea has over 6,000 cases. Iran has over 3,500 cases. Italy has over 3,000 cases. The US now has 163 cases with 11 fatalities as California reports its first death; the other 10 deaths have been in Washington. The Northshore School District in the greater Seattle metro area has closed for two weeks, affecting 33 schools and 23,000 students. Many of the schools already had direct or indirect exposure to COVID19, and there was already a 20% student absentee rate. The states of Tennessee, Nevada, and New Jersey report their first cases. New York City confirms its third and fourth cases. The California fatality was from a cruise ship passenger on the Grand Princess. The Grand Princess will not be allowed to dock until everyone aboard has been tested.
Update 3/3/2020: Confirmed cases 92,870 with 3,168 fatalities. The WHO today said that the global mortality rate for COVID19 is 3.4%, which is higher than the previously thought 2.3%. The US now has 9 fatalities, all in Washington state. Washington state has 27 cases total. Italy has over 2,500 confirmed cases today with 79 fatalities. Iran has 2,336 cases with 77 fatalities. South Korea has 5,186 cases.
Update 3/2/2020: Confirmed cases 90,932 with 3,119 fatalities. The US now has six fatalities, all in Washington state, and 103 cases total. The governor of Washington says not to be surprised if large public events start to be cancelled. South Korea has nearly 5,000 cases. Italy has nearly 2,000 cases. A patient in San Antonio, one of the evacuees, appeared to recover from the coronavirus illness and had been released from a health care facility after having tested negative twice in more than 24 hours was placed back into isolation, even after the CDC's Dr. Anthony Fauci insisted that there was no evidence that people could be 'reinfected' after recovering from the virus.
Update 3/1/2020: Confirmed cases 88,591 with 3.050 fatalities. South Korea now has 3.736 cases. Italy has 1,701 cases. Iran has 978 cases. Two additional cases has been confirmed in Washington state at one long term care facility in Kirkland; 52 additional people at the facility are showing symptoms. Alameda County, CA declared a state of emergency after two medical workers tested positive. 124 additional health care workers in the county have been asked to self quarantine.
Update 2/29/2020: First US fatality in Washington state. Washington state declares a state of emergency.
Update 2/28/2020: Confirmed cases 84,188 with 2,876 fatalities. The CDC confirms three additional US cases, one of which is a second case of unknown origin. A sixth Diamond Princess cruise ship passenger has passed away. Mexico confirms first case. Nigeria confirms first case. South Korea cases increase to 2,337. Italy now has 888 cases, surpassing the Diamond Princess ship outbreak. The US has issued a travel advisory for Italy. Iran now has 388 cases. The WHO says the virus will soon be in all countries and raised the global alert from High to Very High. The WHO continues to say that they see no "community transmission" outside of China and so have no yet declared a pandemic. A dog in Hong Kong tests positive for coronavirus; two dogs in Japan have also tested positive. Health officials don't know if the dog is actually infected or is carrying the virus because of environmental contamination.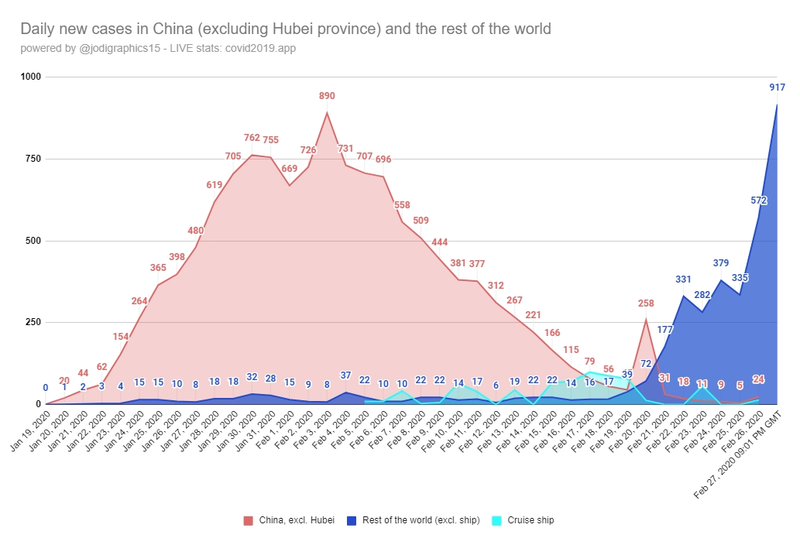 Update 2/27/2020: Confirmed cases 83,105 with 2,858 fatalities. The US of case of unknown origin yesterday has been revealed to be in Solano County, CA (not Sonoma as earlier reported). The UC Davis Medical Center where that patient is being treated has sent some employees home to be monitored for symptoms as the infected patient was in the hospital for four days before being tested for coronavirus. The US now has 60 confirmed cases. New York has asked 700 people to self-isolate. Saudi Arabia has halted pilgrimages to Islam's holy sites. China will extend school closures for another month. Australia has initiated its emergency response plan saying, "While the WHO is yet to declare the nature of the coronavirus and its move toward a pandemic phase, we believe that the risk of a global pandemic is very much upon us and as a result, as a government, we need to take steps to prepare." South Korea has has 1,766 confirmed cases and yesterday exceeded China's daily total of new cases for the first time. Japan closed all schools until the spring holidays in late March. Switzerland cancels the Engadin Ski Marathon, the country's largest annual sporting event. The WHO says that it believes that Iran's 10% fatality rate is due to undetected cases rather than a higher actual virulence. Italy now has 655 confirmed cases. Norway had its first case yesterday, and now adds three more today. Northern Ireland confirmed its first case. The Trump Administration announced that it plans to use Defense Production Act to force American companies to start manufacturing protective masks and other medical supplies. Germany announced it first case two days ago and now has 26 cases. France's confirmed cases more than doubled today to 38. The Netherlands confirms its first case.
Update 2/26/2020: Confirmed cases 81,412 with 2,773 fatalities. France confirmed its second fatality from the virus. Italy reported its twelfth fatality. Hokkaido prefecture in Japan is temporarily closing schools as it tried to contain an outbreak. Nice, France has cancelled the last day of Carnaval celebrations. Iraq has closed schools and universities for ten days. Brazil confirms its first case. Greece confirmed its first case. North Macedonia confirms its first case. Norway confirms its first case. Pakistan reports its first two cases. Lebanon and Finland confirm  second cases. Iran reports 19 new fatalities. Italy confirms twelfth fatality and 400 confirmed cases. The US has found six new cases among the passengers evacuated from Japan aboard the Diamond Princess cruise ship. 83 people are being monitored for the infection in Long Island's Nassau County and another 8 under quarantine in Westchester county, NY. Orange County, CA declares a local health emergency. President Trump announces that VP Pence will lead the virus response as coronavirus czar. The CDC has confirmed the first US case of unknown origin in Northern California, but doesn't reveal the exact location. Researchers have found that COVID-19 has an "HIV-like mutation" which makes it extremely infectious – up to 1,000 times more than the SARS virus. Chinese researcher Wang Chen, director of China's Academy of Medical Sciences says that only 30 to 50 percent of infected patients test positive with the current diagnostic kits because COVID-19 is difficult to detect using nucleic acid testing.
Update 2/25/2020: Confirmed cases 80,598 with 2,712 fatalities. San Francisco has declared a state of emergency in order to prepare for the virus. The CDC says that a pandemic is not a question of "if" but "when" and also "circumstances suggest the virus will cause a pandemic." Warnings of mask shortages in the US. The US Association of Public Health Laboratories says that that they still have no diagnostic or surveillance test outside of the CDC. Italy now has 322 confirmed cases with 10 fatalities. Germany confirms its first two cases. Austria places an Alpine hotel under lockdown after a receptionist contracted the virus. South Korea now has over 1,100 cases.
Update 2/24/2020: Confirmed cases 80,087 with 2,699 fatalities. Italy reports its seventh fatality and 219 confirmed cases. In Iran the official death toll is 12, but there have been reports from members of the government that it is actually as high as 50. The US has 53 confirmed cases.
Update 2/23/2020: Confirmed cases 79,744 with 2,629 fatalities. Italy reports a third fatality and over 100 confirmed cases. California has 8,000 people under "self-imposed quarantine" who have traveled to China but have no contacts with confirmed cases.
Update 2/22/2020: Confirmed cases 78,966 with 2,468 fatalities. South Korea is now reporting 556 confirmed cases. Italy has 76 confirmed cases and had a second fatality; Italy has declared a national emergency.
Update 2/21/2020: Confirmed cases 77,811 with 2,360 fatalities. There have been several reports now of cured patients in China having been reinfected with the virus. The director of the WHO says that the world is at a tipping point and time is running out to stop the virus before things get much worse, as infections in new countries continue to appear. Italy reports the country's first COVID-19 fatality. In Italy's Lombardy region, 50,000 in ten towns have been asked to self quarantine and public activities have been temporarily banned.
Update 2/20/2020: Confirmed cases 77,253 with 2,250 fatalities.
Update 2/19/2020: Confirmed cases 75,676 with 2,123 fatalities. A total of 621 people on the Diamond Princess have tested positive for coronavirus as Japan has started to release passengers from quarantine. A Japanese epidemiologist, Professor Kentaro Iwata, who spent a day on the ship described it as "completely inadequate in terms of controlling infections. There was not a single infection control professional on the ship, nor anyone professionally involved in infection prevention. The bureaucrats were in charge of everything." In China, companies are telling workers that there is no money to pay them wages or that they shouldn't have to pay full salaries to quarantined employees who don't come to work.
Update 2/18/2020: Confirmed cases 75,198 with 2,009 fatalities. Japan has confirmed another 88 cases aboard the Diamond Princess, bringing the total of cruise infectees up to 542. The US state department and CDC have barred the US citizens who declined to board the evacuation flight from returning to the United States until next month. The original quarantine time is set to expire tomorrow. An analysis of over 44,000 laboratory confirmed cases of coronavirus has found the fatality rate to be 2.3%. Russia has banned all Chinese from entering the country. The UK-based Jaguar Land Rover factory will run out of Chinese parts in two  weeks, which may halt production lines. Thousands of shipping containers of frozen meat imports are piling up in China's ports as a lack of truck drivers and closed transportation network severely slow their dispersal. In Tokyo, Japan, several companies are asking tens of thousands of employees to work from home in order to avoid an outbreak in the populous city. World health officials fear that Japan may be on the cusp of a large outbreak.
Update 2/17/2020: Confirmed cases 73,258 with 1,868 fatalities. There are now 896 cases outside of China. The numbers outside of China are currently doubling every six days. Of the US citizens evacuated from the Diamond Princess in Japan, fourteen have now tested positive for coronavirus. There are now 454 confirmed cases from that cruise ship.
Update 2/16/2020: Confirmed cases 71,244 with 1,770 fatalities. 760 million people are under quarantine in China. The US has chartered two 747 airplanes in order to evacuate approximate 400 US citizens quarantined on the Diamond Princess cruise ship in Japan.
Update 2/15/2020: Confirmed cases at 69,270 with 1,669 fatalities. Doctors working on the front lines of the novel coronavirus (COVID-19) outbreak have told the Taiwan Times that it's possible to become reinfected by the virus, leading to death from sudden heart failure in some cases. The cruise ship quarantined in Japan now has 355 confirmed cases.
Update 2/14/2020: Confirmed cases 67,100 with 1,526 fatalities. The numbers had come down a little from yesterday early in the day because of a reported counting error in China. Now the new numbers for today have been added. China has announced that everyone returning to Beijing from the LNY holidays will need to quarantine for 14 days. Japan has four new cases, including one man who had just returned to Japan from Hawaii. The cruise ship quarantined in Japan now has 218 confirmed cases. The US CDC director believes that we will get community-based transmission in the US. The CDC also announced that people experiencing flu-like symptoms in the US will be screened for the coronavirus. Egypt confirms their first coronavirus case; the first reported in Africa. A Chinese scientist at the South China University of Technology has written a paper which posits that "the killer coronavirus probably originated from a laboratory in Wuhan." Wuhan has increased the severity of their quarantine measures; residents are now required to stay in their homes except to receive treatment or provide government sanctioned services. Chinese people frustrated with their government's lack of transparency have taken to making jokes:
How many monkeys died?
26 caves collapsed.
How many monkeys died?
Only 5K trees ruined.
How many monkeys died?
All alive moneys transferred to safe places.
How many monkeys died?
Relatives of the dead monkeys are emotionally stable.
How many monkeys died?
We saved one today. https://t.co/KUh9O5IqiG

— 曾錚 Jennifer Zeng (@jenniferatntd) February 14, 2020
Update 2/13/2020: Confirmed cases 65,246 with 1,487 fatalities. The CDC is preparing to announce the 15th US infection. The first fatality in Japan has occurred. Dr. Wang Guiqiang in Beijing says that it can take as little as two seconds to contract the virus in areas of high concentration. China's National Health Commission authorizes war-time conditions on quarantine, supplies management, control and discipline. News reports that US administration sources suspect China of underreporting the number of cases by at least 100,000. An epidemiologist who advises the WHO said that the virus could infect two-thirds of the world population if it isn't contained soon. The Norwegian Jewel cruise ship has been quarantined in Sydney while a Singaporean passenger is tested for coronavirus. Norwegian cruise lines has denied that the person being tested has any coronavirus symptoms.
Update 2/12/2020: Confirmed cases 60,310 with 1,368 fatalities. Two days after returning to work, a Chinese business has quarantined 200+ employees after an employee was found with the virus. First case has been confirmed in London. It is the UK's ninth case.
Update 2/11/2020: Confirmed cases 45.171 with 1115 fatalities. The Diamond Princess cruise ship quarantined in Japan now has 174 confirmed cases.
Update 2/10/2020: Confirmed cases 43,101 with 1018 fatalities. President Xi warns China to be prepared for a long and grim battle with the virus. China's National Health Commission has changed their definition of a "confirmed case" — a patient who tests positive by lab but shows no symptoms will no longer be counted as a confirmed case. This is contrary to the WHO definition of a confirmed case. The cruise ship quarantined in Japan now has had 136 confirmed cases of coronavirus – far more than any country outside of China. Some Chinese workers are returning to work today after the extended Lunar New Year holiday. Research firm Capital Economics says that the outbreak could cost the world $280 billion during the first quarter of 2020 based on projections for lowered GDP. In an interview, a Wuhan doctor relates his experiences saying that he saw a 4-5% fatality rate at least in the early cases and that the second week was when a patient would either start getting better or start getting much worse. There are reports that North Korea is concealing a large outbreak.
Update 2/9/2020: Confirmed cases at 40.553 with 910 fatalities. The WHO director-general warns, "There've been some concerning instances of onward nCoV spread from people with no travel history to CN. The detection of a small number of cases may indicate more widespread transmission in other countries; in short, we may only be seeing the tip of the iceberg." Exiled Chinese billionaire Guo Wengui claims that the death toll is closer to 50,000 with 1.5 million infected.
Update 2/8/2020: Confirmed cases at 37,207 with 809 fatalities.
Update 2/7/2020: Confirmed cases at 34,394 with 720 fatalities. The city of Guangzhou, population 15 million, has imposed a quarantine, making it 400 million people quarantined in China. A cruise ship has docked in New Jersey with twelve passengers who are Chinese nationals quarantined over coronavirus fears after exhibiting symptoms. Royal Caribbean Cruises has banned the boarding of any passengers who have traveled through China, Hong Kong or Macau within fifteen days, or any China, Hong Kong, or Macau passport holder regardless of prior travel history. The cruise ship quarantined off Japan now has a total of 61 confirmed cases. A team of German scientists have determined that the coronavirus can survive for up to nine days on a surface, making it much more hardy than the common flu. Hong Kong and Taiwan report panic buying of food and antiseptics.
Update 2/6/2020: Confirmed cases 30,829 with 635 fatalities. Scientists now report that the antibodies patients produce don't necessarily last very long, meaning that you can potentially catch the coronavirus multiple times and also meaning that a vaccine may difficult to produce. Dubai confirms a coronavirus death, the third outside of China. More than 7,000 remain quarantined on the two cruise ships (Japan and Hong Kong) reported earlier. So far forty-two of the passengers on the ship in Japan are confirmed with coronavirus while eight former passengers of the Hong Kong ship have tested positive for the coronavirus. More are expected to be confirmed. Dali City in China is accused of stealing a shipment of facemasks that was intended for Chongqing as shortages continue. According to the NY Times, a senior Chinese official has ordered the authorities in the city of Wuhan to immediately round up all residents who have been infected with the coronavirus and place them in isolation, quarantine or designated hospitals. City investigators should go to each home to check the temperatures of every resident and interview infected patients' close contacts. "Set up a 24-hour duty system. During these wartime conditions, there must be no deserters, or they will be nailed to the pillar of historical shame forever," Ms. Sun Chunlan, vice premier for coronavirus response, said.
The Chinese doctor who tried to raise the alarm about the new coronavirus has died of the deadly virus.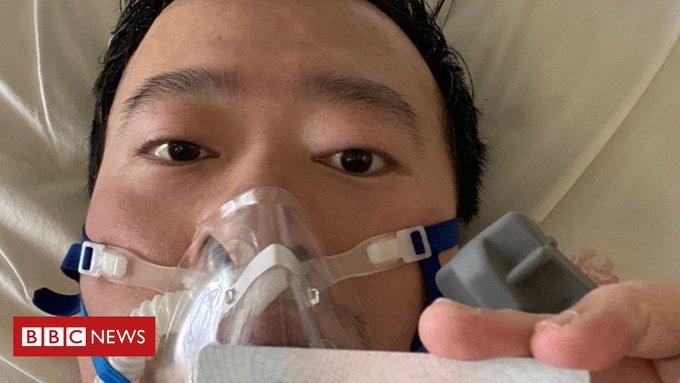 Dr. Li, 34, was hospitalized on January 12 after contracting the virus from his patient. He was confirmed to have the coronavirus on February 1, and The World Health Organization has just confirmed his passing…
We are deeply saddened by the passing of Dr Li Wenliang. We all need to celebrate work that he did on #2019nCoV – @DrMikeRyan

— World Health Organization (WHO) (@WHO) February 6, 2020
Dr. Li Wenliang – who warned the public of a potential "SARS-like" disease in December 2019 – was questioned by local health authority, and warned:
"We solemnly warn you: If you keep being stubborn, with such impertinence, and continue this illegal activity, you will be brought to justice – is that understood?"
Dr, Li was later summoned by Wuhan police to sign a reprimand letter in which he was accused of "spreading rumors online" and "severely disrupting social order."
Update 2/5/2020: Confirmed cases at 28,276 with 565 fatalities. A newborn in Wuhan tested positive for coronavirus; the first case of mother-to-child transmission. Hong Kong is testing 1800 cruise ship passengers and crew after reported fevers and other symptoms. Reports of pets in distress/starving in Wuhan after being left in homes while owners went on what was supposed to be brief holidays but who have been prevented from returning for ten days, now. The WHO reiterates that there are currently "no effective remedies" for coronavirus after stocks surge on reports that various companies are working on vaccines. Honk Kong closes crossings into mainland China.
Update 2/4/2020: Confirmed cases at 23,874 with 492 fatalities. The city of Wuhan is reportedly "effectively under martial law." Japan confirmed 10 cases on board a cruise ship that had been quarantined.
Update 2/3/2020: Confirmed cases at 20,629 with 427 fatalities. There are over 171,000 cases under observation.  The US currently has 11 confirmed cases plus 198 people quarantined at March Air Base after being evacuated from China. The CDC is preparing as if coronavirus were the next pandemic. Hong Kong confirms their first death due to coronavirus – the second outside of mainland China. Thousand of Hong Kong medical works went on strike, demanding that the border with China be closed.
Update 2/2/2020: Confirmed cases at 17,205 with 362 fatalities. Eastern port city Wenzhou (pop. 9 million) is the first city outside of the central province of Hubei to impose quarantine restrictions. As with Huanggang yesterday, one person per residence is allowed to leave the house every two days to shop for necessities. The US director of the National Institute of Allergy and Infectious Disease, Dr. Anthony Fauci said, "It's very, very transmissible, and it almost certainly is going to be a pandemic. But will it be catastrophic? I don't know." Twenty French citizens evacuated from Wuhan are showing symptoms of coronavirus.
Update 2/1/2020: Confirmed cases at 14,550 with 304 fatalities. The city of Huanggang has banned residents from leaving their homes, in other words a home quarantine for everyone. One person per residence is allowed to leave every other day in order to shop for necessities. Huanggang is the first city to do this after Wuhan. Australia joined the US in temporarily blocking all foreigners who have recently visited China. China also confirmed a case of H5N1 bird flu in Hunan, prompting authorities to cull 17,828 chickens as a precaution. First fatality outside of China occurs in the Philippines.
Update 1/31/2020: Confirmed cases at 11,948 with
259 fatalities. India outlaws the shipping abroad of facemasks and other supplies to fight an epidemic. Russia announces first confirmed cases. A study in The Lancet claims that up to 75,000 might already be infected in the city of Wuhan. Iran cuts all flights to and from China. Some US airlines allowing pilots to decline flights to China. CDC officially quarantines 195 passengers, mostly Americans, who returned from Wuhan, China – first federal quarantine in fifty years. The United States declares a Public Health Emergency nationwide.
Update 1/30/2020: Confirmed cases at 9,821 and 213 fatalities. The number of suspected cases has risen to 15,238. On board an Italian cruise ship, 6,000 passengers have been quarantined after a passenger began showing signs of coronavirus (This turned out to be H1N2 virus). The UK and Hong Kong report shortages of facemasks. WHO says "whole world needs to be on alert now." WHO declares a Public Health Emergency of International Concern. Human to human transmission of the coronavirus in Chicago confirmed by the CDC. A doctor in France has been hospitalized after treating a coronavirus patient, suspected of having contracted coronavirus himself.
Update 1/29/2020: Confirmed cases at 7,811 and 170 fatalities. China's National Health Office suspects another 12,167 cases. Lines for face masks more than a kilometer long in Changhua City. Most shops in Guangzhou are closed and public transit empty. WHO reconvenes emergency committee on the novel coronavirus to decide whether the outbreak constitutes a Public Health Emergency of International Concern.
Update 1/28/2020: Confirmed cases now 6049 with 132 fatalities. North Korea and Mongolia have closed their borders with China. Travel much restricted between Hong Kong and mainland China. San Francisco activated their emergency operation center to prepare for coronavirus outbreak. Thai woman living in India may be first coronavirus death outside of China. CDC issues a level 3 warning to avoid all non-essential travel to China. UK Foreign Office warns Britons to avoid all non-essential travel to mainland China. Hong Kong researchers announce they have developed a vaccine which should be ready in about a year. Japan and Germany confirm that they each have a case of an infected citizen who did not travel to China but was exposed, in their own country, to infected persons through their work. The White House is considering suspending all flights between China and the US. The number of confirmed cases has now surpassed the total of the nine month, 2003 SARS outbreak.
Update 1/25/2020: Confirmed cases now 1400. Wuhan is attempting to build a new hospital in just six days. A doctor working with patients has died from the coronavirus. Many videos, unconfirmed, have shown up on social media showing bodies "piling up" in hallways in Wuhan hospitals.
Summarized at Zero Hedge on 1/24/2020:
Here's a glimpse of new virus-related developments that occurred overnight.

China announces another 15 deaths in Hubei province
Total number of confirmed cases now 1,000+, 41 dead.
China restricts travel for 46+ million people across 16 cities as the death toll surges.
AFP reports that the virus has jumped to Europe, with three confirmed cases now in France.
Two deaths have been reported outside Wuhan.
Some residents displaying symptoms are being turned away from hospitals.
Hospitals in Wuhan make urgent pleas for help and supplies.
Beijing orders PLA medics to assist in Wuhan treating patients
UK and US governments tell citizens to avoid outbreak zones.
63 suspected cases in US, Senator says 3 confirmed, with two reported so far in Illinois and California, and two suspected in Minnesota
South China Morning Post: Wuhan residents describe 'doomsday' scenes as patients overwhelm hospitals
Business Insider: Woman tracked down who gloated on social media about cheating airport detection while returning from Wuhan to France
Organic Prepper: It's Not the Virus You Need to Worry About: It's the System
Alt-Market: The Lies We Are Being Told About The Coronavirus