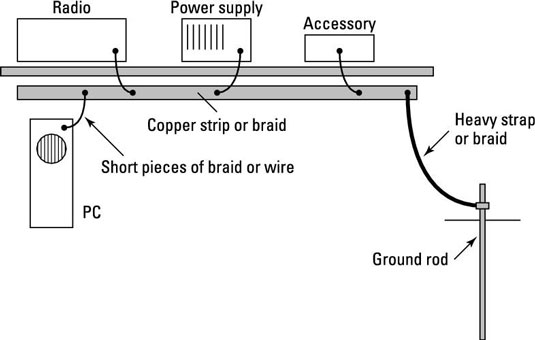 Chris Warren over at Off Grid Ham has a nice article about the often confusing concept and execution of system grounding in Grounding Your Off Grid System. He's not just talking about grounding your communications gear, but also your solar panels, and generators. Don't get burned; learn to ground.
It's hard to follow.

One issue that seems to come up a lot in the off grid radio realm is proper system grounding. The rules and expectations are hard to follow. There are a lot of opinions out there. Many of them are accurate, others are not. Today we'll go over some basic grounding principles for off grid ham radio. This is by no means a comprehensive guide.

All the same basic grounding concerns with commercial power also apply to off grid energy. Electricity does not behave differently just because it comes from a renewable source. Finally, lightning does not discriminate!

What exactly is "ground"?

In the most simple terms, "ground" is a reference point. If you remember your basic electricity training for your amateur radio license, voltage is an expression of potential energy. However, potential doesn't mean anything unless it is compared to something. For example, if you are standing on the roof of your house you have potential energy (via gravity) when compared to your yard. If you are laying flat on your back in your yard you have no potential energy compared to the yard because, after all, you're already in the yard. You can't fall if you're already down, right?

Electrical grounding works the same way. Electricity needs a place to go, and it will not go anywhere without potential. Ground provides an electrical reference point. This has many implications for the operational effectiveness and safety of your off grid system.

Grounding outdoor equipment.

If electricity needs a place to go, it's best for it to have a defined safe path instead of letting it find its own way. Off grid hams should place a high priority on grounding antennas and solar panels.

Connect (bond) solar panel frames together with 6 gauge copper wire attached to a conductive metal pipe or rod pounded into the ground. Be sure also to connect any metal support structures. Grounding lugs made specifically for solar panels are available from many sources including (of course) Amazon. Ground rods should be at least six and preferably eight feet deep. Getting a ground rod down that far will be a problem for many hams. You can substitute two or more shorter rods in place of one long one (be sure to bond the rods to each other).