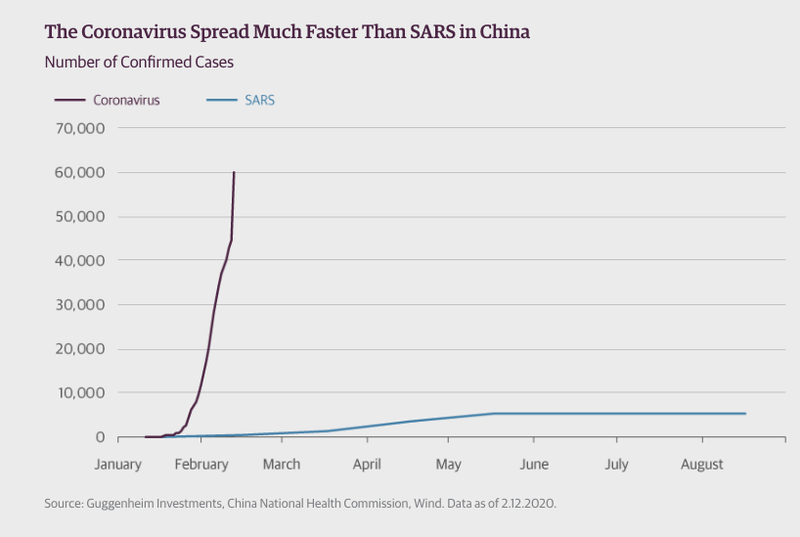 With the new announced deaths due to the virus, the mortality rate is closer to 4% than the previously thought 2%,but could be higher or lower. When comparing fatalities to the total number of recovered cases, the fatality rate is closer to 8% but there may be a lot of cases that are unreported/unconfirmed both in infections and fatalities. The WHO made an estimation on the infectious potential rating of the Wuhan coronavirus, pegging it at approximately a two. This puts the rate as similarly or more contagious than pandemic flu, but less that smallpox or polio.
Update 2/28/2020: Confirmed cases 84,188 with 2,876 fatalities. The CDC confirms three additional US cases, one of which is a second case of unknown origin. A sixth Diamond Princess cruise ship passenger has passed away. Mexico confirms first case. Nigeria confirms first case. South Korea cases increase to 2,337. Italy now has 888 cases, surpassing the Diamond Princess ship outbreak. The US has issued a travel advisory for Italy. Iran now has 388 cases. The WHO says the virus will soon be in all countries and raised the global alert from High to Very High. The WHO continues to say that they see no "community transmission" outside of China and so have no yet declared a pandemic. A dog in Hong Kong tests positive for coronavirus; two dogs in Japan have also tested positive. Health officials don't know if the dog is actually infected or is carrying the virus because of environmental contamination.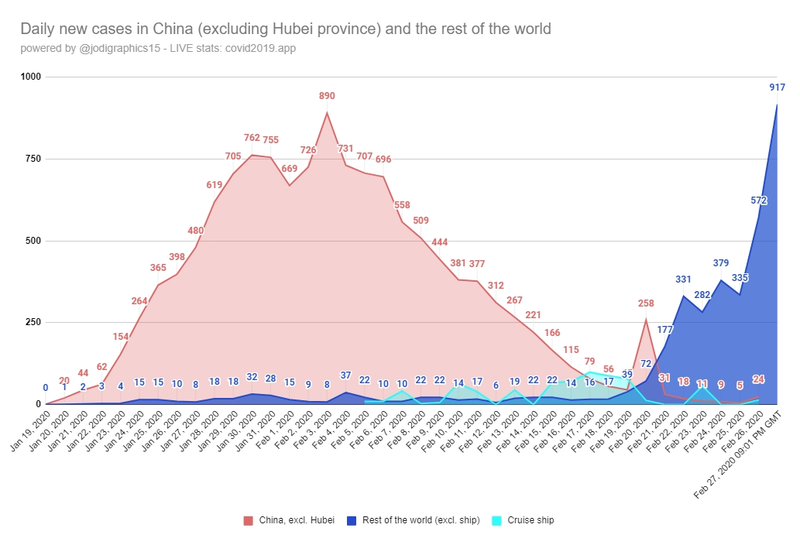 Update 2/27/2020: Confirmed cases 83,105 with 2,858 fatalities. The US of case of unknown origin yesterday has been revealed to be in Solano County, CA (not Sonoma as earlier reported). The UC Davis Medical Center where that patient is being treated has sent some employees home to be monitored for symptoms as the infected patient was in the hospital for four days before being tested for coronavirus. The US now has 60 confirmed cases. New York has asked 700 people to self-isolate. Saudi Arabia has halted pilgrimages to Islam's holy sites. China will extend school closures for another month. Australia has initiated its emergency response plan saying, "While the WHO is yet to declare the nature of the coronavirus and its move toward a pandemic phase, we believe that the risk of a global pandemic is very much upon us and as a result, as a government, we need to take steps to prepare." South Korea has has 1,766 confirmed cases and yesterday exceeded China's daily total of new cases for the first time. Japan closed all schools until the spring holidays in late March. Switzerland cancels the Engadin Ski Marathon, the country's largest annual sporting event. The WHO says that it believes that Iran's 10% fatality rate is due to undetected cases rather than a higher actual virulence. Italy now has 655 confirmed cases. Norway had its first case yesterday, and now adds three more today. Northern Ireland confirmed its first case. The Trump Administration announced that it plans to use Defense Production Act to force American companies to start manufacturing protective masks and other medical supplies. Germany announced it first case two days ago and now has 26 cases. France's confirmed cases more than doubled today to 38. The Netherlands confirms its first case.
Update 2/26/2020: Confirmed cases 81,412 with 2,773 fatalities. France confirmed its second fatality from the virus. Italy reported its twelfth fatality. Hokkaido prefecture in Japan is temporarily closing schools as it tried to contain an outbreak. Nice, France has cancelled the last day of Carnaval celebrations. Iraq has closed schools and universities for ten days. Brazil confirms its first case. Greece confirmed its first case. North Macedonia confirms its first case. Norway confirms its first case. Pakistan reports its first two cases. Lebanon and Finland confirm  second cases. Iran reports 19 new fatalities. Italy confirms twelfth fatality and 400 confirmed cases. The US has found six new cases among the passengers evacuated from Japan aboard the Diamond Princess cruise ship. 83 people are being monitored for the infection in Long Island's Nassau County and another 8 under quarantine in Westchester county, NY. Orange County, CA declares a local health emergency. President Trump announces that VP Pence will lead the virus response as coronavirus czar. The CDC has confirmed the first US case of unknown origin in Northern California, but doesn't reveal the exact location. Researchers have found that COVID-19 has an "HIV-like mutation" which makes it extremely infectious – up to 1,000 times more than the SARS virus. Chinese researcher Wang Chen, director of China's Academy of Medical Sciences says that only 30 to 50 percent of infected patients test positive with the current diagnostic kits because COVID-19 is difficult to detect using nucleic acid testing.
Update 2/25/2020: Confirmed cases 80,598 with 2,712 fatalities. San Francisco has declared a state of emergency in order to prepare for the virus. The CDC says that a pandemic is not a question of "if" but "when" and also "circumstances suggest the virus will cause a pandemic." Warnings of mask shortages in the US. The US Association of Public Health Laboratories says that that they still have no diagnostic or surveillance test outside of the CDC. Italy now has 322 confirmed cases with 10 fatalities. Germany confirms its first two cases. Austria places an Alpine hotel under lockdown after a receptionist contracted the virus. South Korea now has over 1,100 cases.
Update 2/24/2020: Confirmed cases 80,087 with 2,699 fatalities. Italy reports its seventh fatality and 219 confirmed cases. In Iran the official death toll is 12, but there have been reports from members of the government that it is actually as high as 50. The US has 53 confirmed cases.
Update 2/23/2020: Confirmed cases 79,744 with 2,629 fatalities. Italy reports a third fatality and over 100 confirmed cases. California has 8,000 people under "self-imposed quarantine" who have traveled to China but have no contacts with confirmed cases.
Update 2/22/2020: Confirmed cases 78,966 with 2,468 fatalities. South Korea is now reporting 556 confirmed cases. Italy has 76 confirmed cases and had a second fatality; Italy has declared a national emergency.
Update 2/21/2020: Confirmed cases 77,811 with 2,360 fatalities. There have been several reports now of cured patients in China having been reinfected with the virus. The director of the WHO says that the world is at a tipping point and time is running out to stop the virus before things get much worse, as infections in new countries continue to appear. Italy reports the country's first COVID-19 fatality. In Italy's Lombardy region, 50,000 in ten towns have been asked to self quarantine and public activities have been temporarily banned.
Update 2/20/2020: Confirmed cases 77,253 with 2,250 fatalities.
Update 2/19/2020: Confirmed cases 75,676 with 2,123 fatalities. A total of 621 people on the Diamond Princess have tested positive for coronavirus as Japan has started to release passengers from quarantine. A Japanese epidemiologist, Professor Kentaro Iwata, who spent a day on the ship described it as "completely inadequate in terms of controlling infections. There was not a single infection control professional on the ship, nor anyone professionally involved in infection prevention. The bureaucrats were in charge of everything." In China, companies are telling workers that there is no money to pay them wages or that they shouldn't have to pay full salaries to quarantined employees who don't come to work.
Update 2/18/2020: Confirmed cases 75,198 with 2,009 fatalities. Japan has confirmed another 88 cases aboard the Diamond Princess, bringing the total of cruise infectees up to 542. The US state department and CDC have barred the US citizens who declined to board the evacuation flight from returning to the United States until next month. The original quarantine time is set to expire tomorrow. An analysis of over 44,000 laboratory confirmed cases of coronavirus has found the fatality rate to be 2.3%. Russia has banned all Chinese from entering the country. The UK-based Jaguar Land Rover factory will run out of Chinese parts in two  weeks, which may halt production lines. Thousands of shipping containers of frozen meat imports are piling up in China's ports as a lack of truck drivers and closed transportation network severely slow their dispersal. In Tokyo, Japan, several companies are asking tens of thousands of employees to work from home in order to avoid an outbreak in the populous city. World health officials fear that Japan may be on the cusp of a large outbreak.
Update 2/17/2020: Confirmed cases 73,258 with 1,868 fatalities. There are now 896 cases outside of China. The numbers outside of China are currently doubling every six days. Of the US citizens evacuated from the Diamond Princess in Japan, fourteen have now tested positive for coronavirus. There are now 454 confirmed cases from that cruise ship.
Update 2/16/2020: Confirmed cases 71,244 with 1,770 fatalities. 760 million people are under quarantine in China. The US has chartered two 747 airplanes in order to evacuate approximate 400 US citizens quarantined on the Diamond Princess cruise ship in Japan.
Update 2/15/2020: Confirmed cases at 69,270 with 1,669 fatalities. Doctors working on the front lines of the novel coronavirus (COVID-19) outbreak have told the Taiwan Times that it's possible to become reinfected by the virus, leading to death from sudden heart failure in some cases. The cruise ship quarantined in Japan now has 355 confirmed cases.