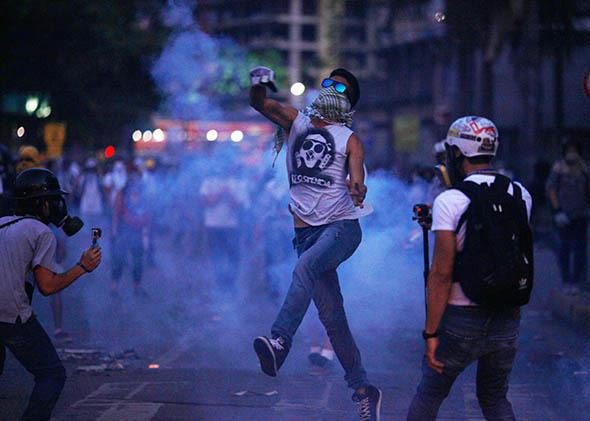 A variety of people/outlets are warning of imminent civil unrest because of lockdowns/job loss/lack of food/etc. resulting from the Covid-19 pandemic and government responses.
Express: Coronavirus riots to erupt 'at any moment' as Red Cross warns cities face 'social bomb'
Europe has seen a substantial increase in the number of coronavirus cases and deaths in recent weeks, as the continent accounts for over half of the world's 601,520 cases. Italy, Spain, Germany and France are Europe's worst-hit countries, with Italy surpassing China's total confirmed cases and death toll this week. The shocking figures has prompted one Red Cross official to warn an eruption of social unrest across Europe's biggest cities is imminent.

Francesco Rocca, head of the International Federation of Red Cross and Red Crescent Societies (IFRC) told a United Nations news briefing: "We have a lot of people who are living very marginalised, in the so-called black hole of society.

"In the most difficult neighbourhoods of the biggest cities I am afraid that in a few weeks we will have social problems.

"This is a social bomb that can explode at any moment, because they don't have any way to have an income."

He warned the risk of suicide is increasing among vulnerable people forced to isolate on their own…
The Organic Prepper: It's Only a Matter of Time Until COVID-19 Lockdowns Lead to Civil Unrest and Violent Crime
The United States of America is basically closed for business, leaving citizens jobless, broke, and without options. We're facing restrictions on movement the likes of which our nation has never seen. The stores that are open have never fully restocked after the "panic buying" of previous weeks, leading to shelves barren of things like meat, flour, toilet paper, and rice.

It's only a matter of time before these issues combine to become the flashpoint that leads to an explosion of civil unrest and violent crime.

The financial situation

Unemployment skyrocketed, with 3.3 million claims last week, and the Fed estimates that number to climb to a whopping 47 million due to the virus. Many of these jobs may not come back after the Covid-19 virus has run its course through the nation – businesses small and large are going to be defaulting on their April rent payments, and many simply won't be able to catch up later.

So far, a lot of people in the area where I'm staying seem to be treating this break of business like a surprise staycation. It's nice to see families out walking together, playing games, and spending time with the people they love.

But this happiness may be shortlived. Despite generous government-mandated disaster pay, unemployment, and stimulus checks, the money may not arrive in time for former employees, self-employed people, and gig workers to pay their personal bills. And when the money does arrive, for many folks it isn't going to be the same amount they were earning before the shutdowns. Most people don't have emergency funds, so things will be dire in short order.

Of course, this affects landlord, mortgage companies, utility companies, retail businesses…the list could go on and on…
Foreign Policy: The Coronavirus Could Topple Governments Around the World
…The consequences will be very different in countries where political institutions are weaker and where the illness or death of a leader has been known to generate the kind of power vacuum that might inspire rival leaders, opposition parties, or the military to launch a power grab. This is a particular problem in countries where checks and balances are weak and political parties don't have strong decision-making mechanisms, which is true in parts of Africa, Asia, Latin America, and post-communist Europe. According to the researchers Rodger Govea and John Holm, 61 percent of leadership transitions in Africa are "unregulated," and many of these episodes have resulted in a political crisis.

In countries where politics are more personalized, the death of a leader can trigger damaging succession battles that can split the ruling party and, in the worst cases, encourage a military coup. It is therefore extremely worrying that senior political officials and leaders have also contracted COVID-19, the disease caused by the new coronavirus, in countries such as Burkina Faso, Iran, and Nigeria—countries that are already unstable gerontocracies…
Silver Doctors: Looting, Riots & Civil Unrest Are Coming To The US, Will Be Much Worse Than Asia Or Europe
It's par for the economic collapse course.

Last week we got some "reports" of riots (protests?) coming out of China:

Here is another view of Hubei residents flipping over a Jiangxi police van.

What's nice about this view is that it clearly shows the Hubei police simply watching, if not helping, the Hubei civilians destroy Jiangxi police vehicles. pic.twitter.com/ueVKHbGxB5

— Things China Doesn't Want You To Know (@TruthAbtChina) March 27, 2020

This week, civil unrest is taking place in Italy, and to think, the United States is just a little bit behind Italy.

In Italy, however, with a more or less disarmed population, the riots have so far have been without major violence, or at least that's what can be gleaned with a minimal internet search.

That is to say, the Italians are talking about snatching a bag from somebody walking home from the grocery store, but it's not like the victim is stabbed and left to bleed to death, or worse:

#Bread and food riots in South Italy! In #Naples and #Palermo, where countless unemployed people live, supermarkets are being protected by police. The shelves are swept empty, customers carry home heavy shopping bags… that are snatched openly in the street.#coronavirus #Italy pic.twitter.com/MXA7dsPvwc

— peter patti (@peterpatti) March 28, 2020

The victims in Italy basically lose their groceries.

It's unlikely the bag snatching in the US will go over as smoothly as it has in Italy, for reasons we'll get to in a moment…
Fox 5 NY: Store owners boarding up buildings across Manhattan
…The businesses have taken the unsightly measure in an effort to defend against the potential for civil unrest caused by the coronavirus and a lack of officers on the streets…
Zero Hedge: Lockdown-Backlash Begins: Angry Crowd Surrounds Capitol, Demands Michigan Governor Reopen Economy
WOOD-TV's Heather Walker provides coverage from within Operation Gridlock as people use their cars to lockdown streets around the Capitol building. Walker interviewed several Michiganders, who are fed up with the public health order and want the economy to reopen. Many said they could make their own health decisions and don't need the government to tell them what to do.

'GOVERNOR, OPEN OUR ECONOMY ON MAY 1 AND RESPECT OUR RIGHTS AND FREEDOMS.'

Wild scene in Lansing, Michigan as hundreds of people protest the state's stay-at-home order.

Team coverage from @WOODTV's @_HeatherWalker and @LeonHendrix. pic.twitter.com/CySg9Y6Nx8

— Austin Kellerman (@AustinKellerman) April 15, 2020

Some protestors were dressed in body armor, wielding AR-15s.
The Daily Reckoning: Worst Recession in 150 Years
Yet even this three-system analysis I just described (pandemic > economy > politics) does not go far enough. The next phase has been little noticed and less discussed.

It involves social disorder. An economic breakdown is more than just economic. It leads quickly to a social breakdown that involves looting, random violence, fraud and decadent behavior.

The Roaring '20s in the U.S. (with Al Capone and Champagne baths) and Weimar Germany (with riots and cabaret) are good examples.

Looting, burglary and violence in the midst of a state of emergency are the shape of things to come.
Zero Hedge: America On The Brink? Shocking Images Show "Pennsylvania Militia" Rolling Up To "Reopen America" Rally
America could be standing on the edge of a revolution. Seriously, well, with National Guard troops deployed across the country, any uprising would likely be squashed.

We noted late last month that a "social bomb" was set to detonate over major Western cities. It was thought that the epicenter of unrest could begin deep within inner cities, such as those in Baltimore and Detroit, but that might not be the case.

It appears tensions are soaring among anti-quarantine protesters and state governments. The lockdown backlash started last Thursday in Lansing, Michigan…