The Yakima Herald had an article on CERT volunteers and training last year – In an emergency, trained volunteers may be the first to reach victims. Yakima County has an active CERT program. Benton County does not. If you live in Yakima County, you can take advantage of the training from CERT. They do a "CERT Basic Course" for volunteers which includes:
Disaster Preparedness: Addresses hazards specific to the community. Materials cover actions that participants and their families take before, during and after a disaster as well as an overview of CERT and local laws governing volunteers.

Fire Suppression: Covers fire chemistry, hazardous materials, fire hazards and fire suppression strategies. However, the thrust of this session is the safe use of fire extinguishers, controlling utilities and extinguishing a small fire.

Medical Operations Part I: Participants practice diagnosing and treating airway obstruction, bleeding and shock by using simple triage and rapid treatment techniques.

Medical Operations Part II: Covers evaluating patients by doing a head to toe assessment, establishing a medical treatment area and performing basic first aid.

Light Search and Rescue Operations: Participants learn about search and rescue planning, size-up, search techniques, rescue techniques and rescuer safety.

Psychology and Team Organization: Covers signs and symptoms that might be experienced by the disaster victim and workers, and addresses CERT organization and management.

Course Review and Disaster Simulation: Participants review and practice the skills that they have learned during the previous six sessions in a disaster activity.
Excerpt from the Yakima Herald article: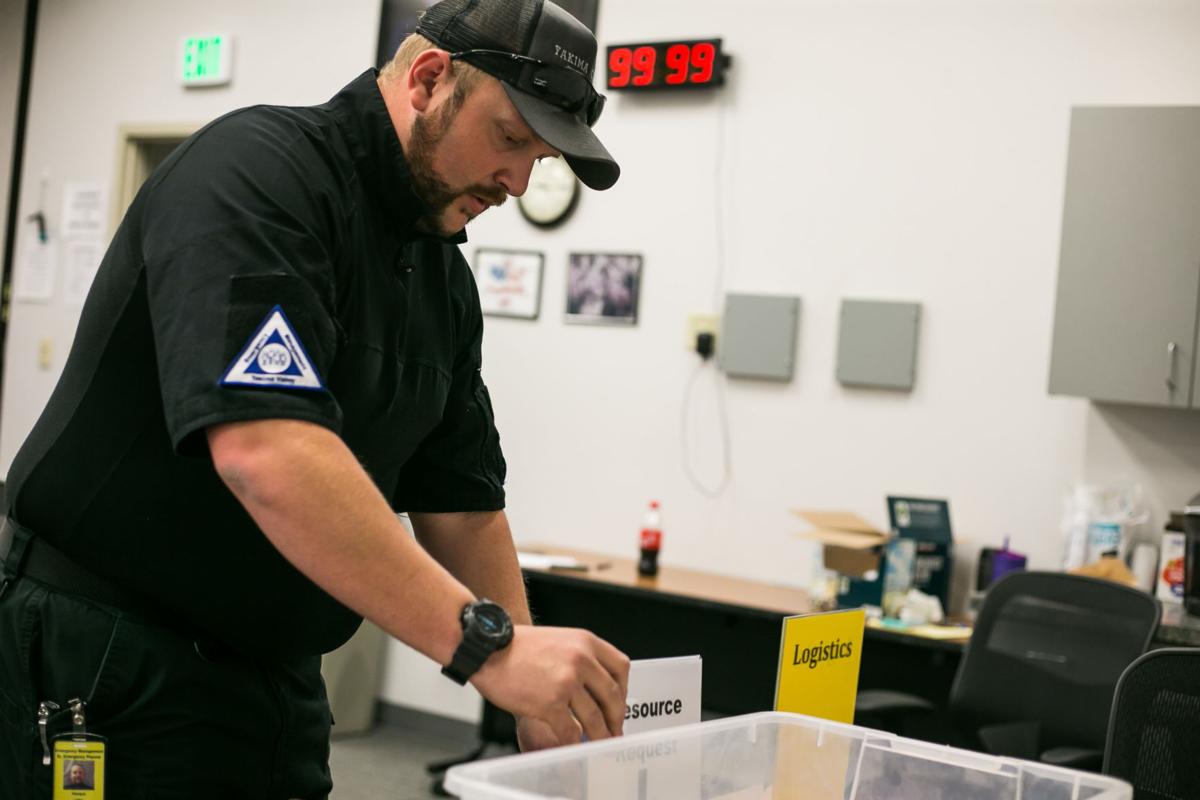 If an earthquake, volcanic eruption, wildfire or flood hits the Yakima Valley, you might not see firefighters or paramedics in your neighborhood for a while.

The experience in other disasters has shown that professional first responders can be overwhelmed as they deal with urgent needs, or they might not be able to get to where people need help because roads and bridges are out.

Instead, help for your neighborhood may come from people in green vests and hard hats like Paul Jenkins, a volunteer coordinator with the county's Community Emergency Response Team…

The team has quarterly training exercises and participates in events such as a recent drill at the Yakima Air Terminal, as well as activations of the county's emergency operations center in Union Gap.

Jenkins has been called out for flooding in West Valley, wildfire near Moxee and the Miriam Fire, where he helped distribute literature and provide security at the site. He was also sent to Outlook to help get information and bottled water to residents after an overflowing manure pond contaminated local wells.

While there are 60 people currently trained, Ward and Jenkins would like to see more people get involved, as it will give them skills to cope in a disaster…