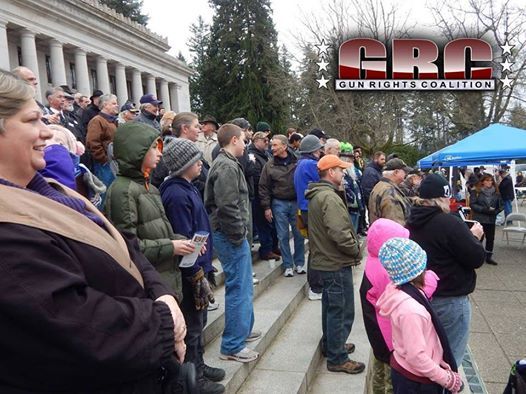 In case you missed the previous post, Washington state Democrats are introducing at least three, new anti-rights bills for the 2020 money grubbing  legislative session — assault firearm ban, a standard-capacity magazine ban, and ammunition purchasing restrictions. Gun Rights Coalition is planning a Rally 4 UR Rights event in Olympia at the Capitol on Friday, Jan. 17th, 2020 from 8:30 am to 12:00 pm.
Rally 4 UR Rights, GRC Lobby Day

"Just because you do not take an interest in politics doesn't mean politics won't take an interest in you."… Pericles

Rally 4 UR Rights
Gun Rights Coalition Lobby Day
hosted by Gun Rights Coalition

Join us at the Capital legislative steps continuing to defend your
2nd Amendment Rights. It's TIME to fight back!
Listen to Pro2A legislators on how we can turn the tide, stay engaged and put pressure on elected officials in Districts that took your rights away!

0800-0900 Set up
0910-1030 Legislative Speakers
1045-1200 Meet up with your Legislators of your District
*** Contact your legislators for appointments for this day***
We will have a team there to both help you find your reps and to help you write letters to them.

* Goal is to have a large attendance, from as many legislative districts, voters engaged in civil dialog educating elected officials, find support for the Pro2A community, getting involved in 2020 Legislative session protecting your rights, and getting involved after session. (Vote OUT elected officials that don't support YOU)

"You may have to fight a battle more than once to win it." …Margaret Thatcher

Please note: We would like to ask anyone that carries firearms to please keep them holstered or slung. Each of us is responsible for our own actions. That includes both appropriate safety and conducting ourselves in a respectful manner that will reflect positively on the group as a whole. Thanks and can't wait to see you all there.
Virginia recently passed similar restrictions
and citizens and the counties have overwhelmingly responded against the laws, passing Second Amendment Sanctuary resolutions in 89 counties, cities or municipalities. Will Washingtonians prove weaker?