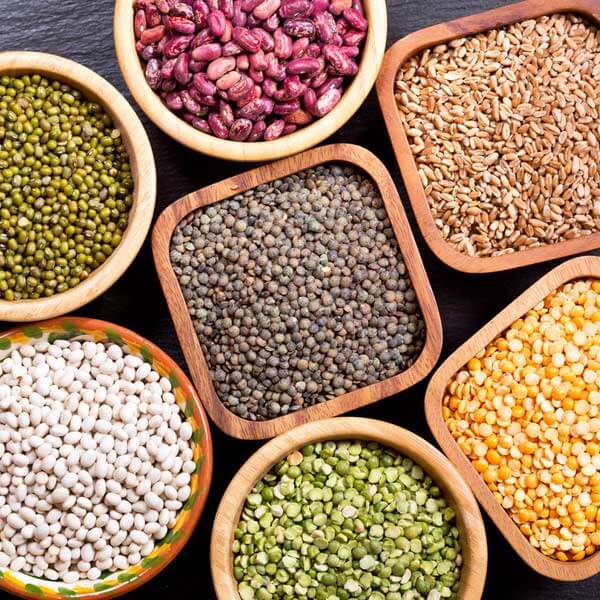 A week ago, we posted an article on cooking the dry beans from your food storage. Here's one from The Organic Prepper that has recipes for using those beans in ways you may not have thought previously – 11 Delicious Ways to Use Those Dry Beans You Stockpiled. The author, Diane Vukovic, is also the author of the book Disaster Preparedness for Women.
Dry beans are one of the best disaster foods to stockpile. They are nutritious, cheap, and last for years when stored properly. But then disaster strikes and you suddenly have to figure out how you are going to use all of those beans. Eating rice and beans gets boring quickly!

I'm lucky because my family already eats beans almost daily. So, when COVID-19 struct and we tapped into our food stockpiles, our diet didn't change much. Here are some of the bean recipes my family is eating now. Even my kids like most of these.

Tip: When building up your disaster food stockpile, think about how you will use the foods in meals. Otherwise, you could end up with a lot of foods you don't like. Or you might end up with disproportionate amounts of food, like 30lbs of pasta but not sauce to go on it.

In my book Disaster Preparedness for Women, I show exactly how to plan a food stockpile so you can make healthy, balanced meals. The book also covers all the preparedness essentials so you are ready for anything. Get the book here.

Here are 11 tasty ways to use dried beans

Try these delicious dried bean recipes.

1. Red Bean Pasta Sauce

This disaster recipe couldn't be easier. Just blend (or mash) 1 cup of cooked pinto beans with 1 cup of tomato sauce to make 4 generous servings. Add seasonings like salt, basil, and oregano to taste. Serve over pasta.

2. Chickpea Nuggets

Of all the beans, chickpeas are the most kid-friendly. They also don't have as much water as other beans, so are easier to form into burgers, balls, or nuggets. I like this recipe which uses oats to hold the nuggets together. If you don't have breadcrumbs or cornflakes you can just use more blended oats for the coating. You can also omit the nutritional yeast.

3. White Bean and Olive Oil "Alfredo" Sauce

Here's another easy bean sauce for pasta. Just blend (or mash) 1 cup of cooked white beans and ¼ cup of olive oil or butter to make the base. Add salt, pepper, garlic powder, onion powder, parmesan, and a splash of lemon juice to make a delicious creamy sauce for pasta.

*You can also sneak this sauce into mac n' cheese so your kids get more protein without even realizing it.

4. Lentil Bread

Whenever I make bread, I sneak in some extra nutrition. How? I add things like blended kale, pulverized dried mushrooms, or bean puree. The bread comes out great and my kids eat it up.

To make, remove about ½ cup of water from your bread recipe and replace it with ½ cup of bean puree. If the dough ends up being too wet, add more flour…

5. Bean Burgers and Sausages

Beans and lentils can easily be turned into burgers or sausages. All you need to do is:

Make sure the beans are drained very well or the burgers will fall apart. Lentils are particularly wet so I'll squeeze them by hand to remove the water.
 Pulse in a food processor with some cooked veggies and seasonings. If you have egg, add an egg to the mixture.*
Add oats, breadcrumbs, or flour (oats and breadcrumbs work best because they absorb moisture and hold the burgers together well). Keep adding until you form a mixture that sticks together.
Form into burger or sausage shapes. Bake or fry.

*Egg acts like glue to hold the burgers together. If you don't have egg, you can usually just omit the egg and the recipe will still work. Another option is to use flax or chia seeds instead of egg. These become a bit like glue when wet and do a good job of holding burgers together. I've got a massive stockpile of flax at home specifically for this purpose!

6. Black Bean Brownies

I know this one probably sounds weird, but you can't taste the black beans the brownies at all. It ends up being a protein-packed treat and your kids don't even realize they are eating beans. I like this recipe which is simple to make with disaster staples…(continues)
Click here to read the entire article at The Organic Prepper.