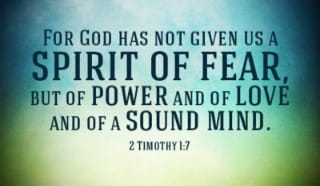 Christian Prepper Gal asks if you've realized that you're in a SHTF situation in Has the Reality of It Hit You Yet?
We are in the midst of a global pandemic. We are in the middle of a SHTF situation. I think for most preppers that is just now beginning to sink in. And, I've been amazed at the number of new preppers that have shown up in Facebook groups in the past month! The time to be prepared is NOW. And, I'm not just talking about being prepared with food and household essentials. Unfortunately, so many, and especially new, preppers think that is all they need to or have to do.

Last Fall (2019) I began to feel very strongly that it was time to stop trying to warn people of the need to be prepared. That it was time to make sure we had our own ducks in a row, and see to it that our own lamps were filled with oil. I even expressed to those around me that I felt like "something" was going to happen in 2020. And, by "something" I meant we were going to experience (as a nation) SH(ing)TF. And, guess what?!? It happened! I personally had thought it would be as a result of the election. But, apparently I was wrong. See? I can admit being wrong, from time to time, lol.

It is my belief that this SHTF scenario has just begun. We are all wanting it to be overwith quickly and for things to get back to normal. But, you know what? I don't think it's going to be overwith quickly, and I'm not sure things can ever be back to what normal was before the COVID-19 pandemic. I don't mean to be a Debbie Downer, but I also don't mean to give false hope to others, or myself. The reality of it is that there will be repercussions from our nation being essentially shut down. Even though the term has not been "officially" used as of yet here in the U.S., that is what has happened. We've already been shut down for close to a month, and it sure doesn't look like things are going to be getting back to "normal" any time soon.

How are you reacting to all this?

First and foremost, we SHOULD NOT be reacting with fear. Especially as Christians. But, it's easy to allow that to happen. Remember, though…

2 Timothy 1:7, For God hath not given us the spirit of fear; but of power, and of love, and of a sound mind. (KJV)

It is especially important to remember that right now, during this pandemic. We do not want to allow our minds to become the devil's playground, do we? I know I don't! But, if we allow fear to creep in, that is exactly what we're doing.

How do we avoid or get rid of that fear? We read The Word of God. Romans 10:17, So then faith cometh by hearing, and hearing by the word of God. (KJV). If we read (hear) The Word of God, it drives out fear! How can you have faith and fear at the same time? You can't! And, that's why we need to build up our most holy faith. We need to saturate our entire beings with His Word! According to Johh 1:1, "In the beginning was the Word, and the Word was with God, and the Word was God. (KJV) Jesus is The Word. If we read what He said, in His Word, our faith will abound! And, faith expels fear! If we put our trust in Him, we will prevail and overcome fear.

There was one day a couple of weeks ago that I was so overcome with the negative from the news and social media that I had to play some contemporary worship music. I turned it up loud, and let it drown out all the negative in my mind and eyes. Then, I could put my mind and eyes back on Jesus.

We need to keep our eye on the prize. And, as Christians, our prize is eternal life with our Heavenly Father. So, if we keep our eyes on Him, we will win in the end!

Are you still denying it?

As I mentioned earlier, some (many) people (including preppers) are in denial. They truly think that our government will be able to take care of us and this is the worst that things will get. Some preppers don't even realize that this is the SHTF that they've been preparing for! My thought is that the reason for that is they are only seeing the here and now. They're not seeing what can and possibly will happen as a result of our nation being shut down.

Take a moment and let that sink in. Think about it. Our government has already put itself two trillion dollars in debt over this pandemic and that has only touched the surface. It will take much, much more than that to dig us out of this economic hole we are in. Do we have that much money and resources in reserve? Most likely not.

The economic downfall of the pandemic is just now beginning to be felt by many. What is going to happen when the food and resources begin to run out? What's going to happen when parents cannot provide for their families? It will hit those with the lower incomes first. And, we are on the brink of that happening as I write. And, we are only in the beginning; one month since the declaration of this being a pandemic. We have a long way to go before we can even begin recovery. The virus hasn't even been stabilized yet; it could take up to 18 months or longer to develop a vaccine. Our government is trying to help us and prevent things like chaos as a result of looting and rioting from happening. But, it's not all up to only them…(continues)
Click here to read the entire article at Christian Prepper Gal.