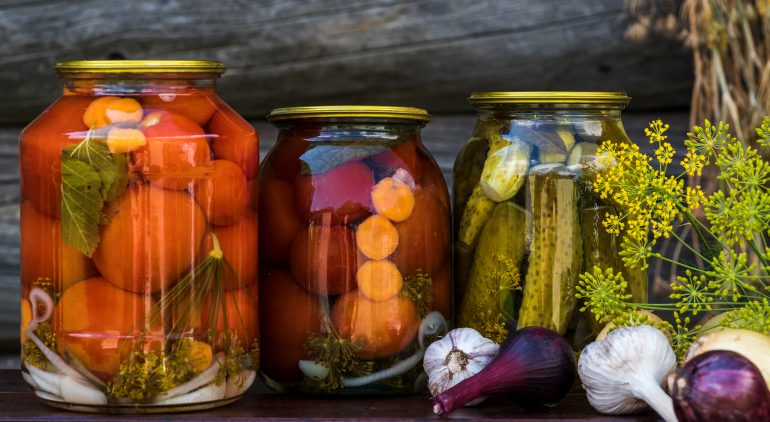 Our tomato plants are starting to produce an abundance of paste tomatoes. We've just finished canning our first excess of tomatoes for the summer. We dehydrate our goji berries in batches as we harvest the ripe berries. We've previously canned up elderflower cordial earlier this summer and enjoy refreshing and healthy spritzers in the heat. Blackberry and blackberry/apricot jams have been stored up in jars. The first ripe watermelon was devoured this afternoon; will we preserve some rind?
Food preservation has become something of a lost art in this day and age, but a lot of people still express an interest in the practice. Where can you learn more about it if you don't already have a friend who has been preserving food? One way is through books. The Ball Complete Book of Home Preserving or The Ball Blue Book Guide to Preserving are stand-bys that have been updated over the years. They mostly just cover canning, but have very reliable recipes and instructions that are easy to understand for beginners. If you can learn through reading, but don't want a whole book on the topic, Instructables has a free online course on Canning and Preserving which lets you work through six topics at your own pace.
For a more visual approach and covering more topics, the University of Alaska Fairbanks Extension has a video series on Youtube called Preserving Alaska's Bounty which gives you an overview of several preservation topics, including water bath canning, pressure canning, sausage-making, fruit leathers, sauerkraut, dehydrating, and more. The videos are a bit dated, but still have good basic info. Youtube user Homestead Heart also has a playlist for food preservation. English Country Life's Youtube channel has a food preservation playlist which includes things like curing bacon, smoking food, lard, and more. A more technical or science explanation of food preservation can be found with FoodSci with ProfVigeant.
The WSU Extension normally has an online, food preservation program called Preserve the Taste of Summer, but it appears to be closed for the year. Click here to download a PDF flyer with details about the course cost and syllabus. Similarly, the University of Idaho Extension has a Preserve @ Home online program, which next airs in January 2021. Click here for a past Preserve @ Home flyer.
Other web resources include:
National Center for Home Food Preservation (Univ of Georgia) and its related website Preserving Food at Home.
FoodPreserving.org This one is Australian. Weights are giving in both grams and pounds, while other volume measurements are in the familiar cups and teaspoons.
Now, go forth to a new life, rising through food preservation methods to self-sufficiency, peace and plenty.