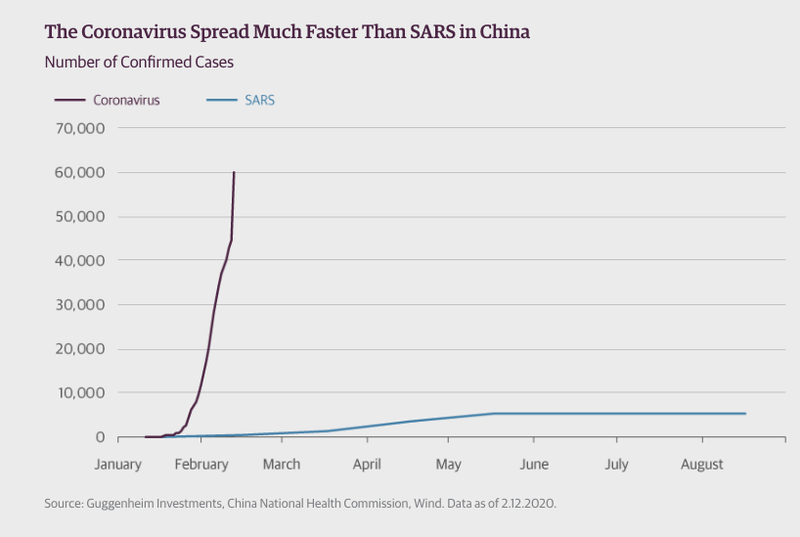 With the new announced deaths due to the virus, the mortality rate is closer to 4% (this estimate has now come back down to around 2.3% – 2/18/20) than the previously thought 2%. The WHO made an estimation on the infectious potential rating of the Wuhan coronavirus, pegging it at approximately a two. This puts the rate as similarly or more contagious than pandemic flu, but less that smallpox or polio.
Update 2/24/2020: Italy reports its seventh fatality and 219 confirmed cases. In Iran the official death toll is 12, but there have been reports from members of the government that it is actually as high as 50.
Update 2/23/2020: Confirmed cases 79,744 with 2,629 fatalities. Italy reports a third fatality and over 100 confirmed cases.
Update 2/22/2020: Confirmed cases 78,966 with 2,468 fatalities. South Korea is now reporting 556 confirmed cases. Italy has 76 confirmed cases and had a second fatality; Italy has declared a national emergency.
Update 2/21/2020: Confirmed cases 77,811 with 2,360 fatalities. There have been several reports now of cured patients in China having been reinfected with the virus. The director of the WHO says that the world is at a tipping point and time is running out to stop the virus before things get much worse, as infections in new countries continue to appear. Italy reports the country's first COVID-19 fatality. In Italy's Lombardy region, 50,000 in ten towns have been asked to self quarantine and public activities have been temporarily banned.
Update 2/20/2020: Confirmed cases 77,253 with 2,250 fatalities.
Update 2/19/2020: Confirmed cases 75,676 with 2,123 fatalities. A total of 621 people on the Diamond Princess have tested positive for coronavirus as Japan has started to release passengers from quarantine. A Japanese epidemiologist, Professor Kentaro Iwata, who spent a day on the ship described it as "completely inadequate in terms of controlling infections. There was not a single infection control professional on the ship, nor anyone professionally involved in infection prevention. The bureaucrats were in charge of everything." In China, companies are telling workers that there is no money to pay them wages or that they shouldn't have to pay full salaries to quarantined employees who don't come to work.
Update 2/18/2020: Confirmed cases 75,198 with 2,009 fatalities. Japan has confirmed another 88 cases aboard the Diamond Princess, bringing the total of cruise infectees up to 542. The US state department and CDC have barred the US citizens who declined to board the evacuation flight from returning to the United States until next month. The original quarantine time is set to expire tomorrow. An analysis of over 44,000 laboratory confirmed cases of coronavirus has found the fatality rate to be 2.3%. Russia has banned all Chinese from entering the country. The UK-based Jaguar Land Rover factory will run out of Chinese parts in two  weeks, which may halt production lines. Thousands of shipping containers of frozen meat imports are piling up in China's ports as a lack of truck drivers and closed transportation network severely slow their dispersal. In Tokyo, Japan, several companies are asking tens of thousands of employees to work from home in order to avoid an outbreak in the populous city. World health officials fear that Japan may be on the cusp of a large outbreak.
Update 2/17/2020: Confirmed cases 73,258 with 1,868 fatalities. There are now 896 cases outside of China. The numbers outside of China are currently doubling every six days. Of the US citizens evacuated from the Diamond Princess in Japan, fourteen have now tested positive for coronavirus. There are now 454 confirmed cases from that cruise ship.
Update 2/16/2020: Confirmed cases 71,244 with 1,770 fatalities. 760 million people are under quarantine in China. The US has chartered two 747 airplanes in order to evacuate approximate 400 US citizens quarantined on the Diamond Princess cruise ship in Japan.
Update 2/15/2020: Confirmed cases at 69,270 with 1,669 fatalities. Doctors working on the front lines of the novel coronavirus (COVID-19) outbreak have told the Taiwan Times that it's possible to become reinfected by the virus, leading to death from sudden heart failure in some cases. The cruise ship quarantined in Japan now has 355 confirmed cases.
Update 2/14/2020: Confirmed cases 67,100 with 1,526 fatalities. The numbers had come down a little from yesterday early in the day because of a reported counting error in China. Now the new numbers for today have been added. China has announced that everyone returning to Beijing from the LNY holidays will need to quarantine for 14 days. Japan has four new cases, including one man who had just returned to Japan from Hawaii. The cruise ship quarantined in Japan now has 218 confirmed cases. The US CDC director believes that we will get community-based transmission in the US. The CDC also announced that people experiencing flu-like symptoms in the US will be screened for the coronavirus. Egypt confirms their first coronavirus case; the first reported in Africa. A Chinese scientist at the South China University of Technology has written a paper which posits that "the killer coronavirus probably originated from a laboratory in Wuhan." Wuhan has increased the severity of their quarantine measures; residents are now required to stay in their homes except to receive treatment or provide government sanctioned services. Chinese people frustrated with their government's lack of transparency have taken to making jokes:
How many monkeys died?
26 caves collapsed.
How many monkeys died?
Only 5K trees ruined.
How many monkeys died?
All alive moneys transferred to safe places.
How many monkeys died?
Relatives of the dead monkeys are emotionally stable.
How many monkeys died?
We saved one today. https://t.co/KUh9O5IqiG

— 曾錚 Jennifer Zeng (@jenniferatntd) February 14, 2020
Update 2/13/2020: Confirmed cases 65,246 with 1,487 fatalities. The CDC is preparing to announce the 15th US infection. The first fatality in Japan has occurred. Dr. Wang Guiqiang in Beijing says that it can take as little as two seconds to contract the virus in areas of high concentration. China's National Health Commission authorizes war-time conditions on quarantine, supplies management, control and discipline. News reports that US administration sources suspect China of underreporting the number of cases by at least 100,000. An epidemiologist who advises the WHO said that the virus could infect two-thirds of the world population if it isn't contained soon. The Norwegian Jewel cruise ship has been quarantined in Sydney while a Singaporean passenger is tested for coronavirus. Norwegian cruise lines has denied that the person being tested has any coronavirus symptoms.
Update 2/12/2020: Confirmed cases 60,310 with 1,368 fatalities. Two days after returning to work, a Chinese business has quarantined 200+ employees after an employee was found with the virus. First case has been confirmed in London. It is the UK's ninth case.
Update 2/11/2020: Confirmed cases 45.171 with 1115 fatalities. The Diamond Princess cruise ship quarantined in Japan now has 174 confirmed cases.
Update 2/10/2020: Confirmed cases 43,101 with 1018 fatalities. President Xi warns China to be prepared for a long and grim battle with the virus. China's National Health Commission has changed their definition of a "confirmed case" — a patient who tests positive by lab but shows no symptoms will no longer be counted as a confirmed case. This is contrary to the WHO definition of a confirmed case. The cruise ship quarantined in Japan now has had 136 confirmed cases of coronavirus – far more than any country outside of China. Some Chinese workers are returning to work today after the extended Lunar New Year holiday. Research firm Capital Economics says that the outbreak could cost the world $280 billion during the first quarter of 2020 based on projections for lowered GDP. In an interview, a Wuhan doctor relates his experiences saying that he saw a 4-5% fatality rate at least in the early cases and that the second week was when a patient would either start getting better or start getting much worse. There are reports that North Korea is concealing a large outbreak.
Update 2/9/2020: Confirmed cases at 40.553 with 910 fatalities. The WHO director-general warns, "There've been some concerning instances of onward nCoV spread from people with no travel history to CN. The detection of a small number of cases may indicate more widespread transmission in other countries; in short, we may only be seeing the tip of the iceberg." Exiled Chinese billionaire Guo Wengui claims that the death toll is closer to 50,000 with 1.5 million infected.
Update 2/8/2020: Confirmed cases at 37,207 with 809 fatalities.
Update 2/7/2020: Confirmed cases at 34,394 with 720 fatalities. The city of Guangzhou, population 15 million, has imposed a quarantine, making it 400 million people quarantined in China. A cruise ship has docked in New Jersey with twelve passengers who are Chinese nationals quarantined over coronavirus fears after exhibiting symptoms. Royal Caribbean Cruises has banned the boarding of any passengers who have traveled through China, Hong Kong or Macau within fifteen days, or any China, Hong Kong, or Macau passport holder regardless of prior travel history. The cruise ship quarantined off Japan now has a total of 61 confirmed cases. A team of German scientists have determined that the coronavirus can survive for up to nine days on a surface, making it much more hardy than the common flu. Hong Kong and Taiwan report panic buying of food and antiseptics.
Update 2/6/2020: Confirmed cases 30,829 with 635 fatalities. Scientists now report that the antibodies patients produce don't necessarily last very long, meaning that you can potentially catch the coronavirus multiple times and also meaning that a vaccine may difficult to produce. Dubai confirms a coronavirus death, the third outside of China. More than 7,000 remain quarantined on the two cruise ships (Japan and Hong Kong) reported earlier. So far forty-two of the passengers on the ship in Japan are confirmed with coronavirus while eight former passengers of the Hong Kong ship have tested positive for the coronavirus. More are expected to be confirmed. Dali City in China is accused of stealing a shipment of facemasks that was intended for Chongqing as shortages continue. According to the NY Times, a senior Chinese official has ordered the authorities in the city of Wuhan to immediately round up all residents who have been infected with the coronavirus and place them in isolation, quarantine or designated hospitals. City investigators should go to each home to check the temperatures of every resident and interview infected patients' close contacts. "Set up a 24-hour duty system. During these wartime conditions, there must be no deserters, or they will be nailed to the pillar of historical shame forever," Ms. Sun Chunlan, vice premier for coronavirus response, said.
The Chinese doctor who tried to raise the alarm about the new coronavirus has died of the deadly virus.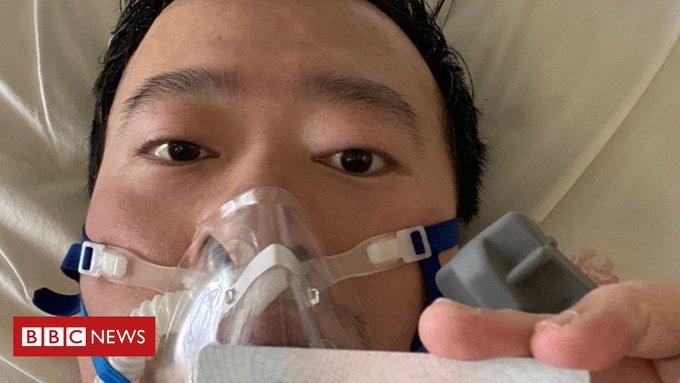 Dr. Li, 34, was hospitalized on January 12 after contracting the virus from his patient. He was confirmed to have the coronavirus on February 1, and The World Health Organization has just confirmed his passing…
We are deeply saddened by the passing of Dr Li Wenliang. We all need to celebrate work that he did on #2019nCoV – @DrMikeRyan

— World Health Organization (WHO) (@WHO) February 6, 2020
Dr. Li Wenliang – who warned the public of a potential "SARS-like" disease in December 2019 – was questioned by local health authority, and warned:
"We solemnly warn you: If you keep being stubborn, with such impertinence, and continue this illegal activity, you will be brought to justice – is that understood?"
Dr, Li was later summoned by Wuhan police to sign a reprimand letter in which he was accused of "spreading rumors online" and "severely disrupting social order."
Update 2/5/2020: Confirmed cases at 28,276 with 565 fatalities. A newborn in Wuhan tested positive for coronavirus; the first case of mother-to-child transmission. Hong Kong is testing 1800 cruise ship passengers and crew after reported fevers and other symptoms. Reports of pets in distress/starving in Wuhan after being left in homes while owners went on what was supposed to be brief holidays but who have been prevented from returning for ten days, now. The WHO reiterates that there are currently "no effective remedies" for coronavirus after stocks surge on reports that various companies are working on vaccines. Honk Kong closes crossings into mainland China.
Update 2/4/2020: Confirmed cases at 23,874 with 492 fatalities. The city of Wuhan is reportedly "effectively under martial law." Japan confirmed 10 cases on board a cruise ship that had been quarantined.
Update 2/3/2020: Confirmed cases at 20,629 with 427 fatalities. There are over 171,000 cases under observation.  The US currently has 11 confirmed cases plus 198 people quarantined at March Air Base after being evacuated from China. The CDC is preparing as if coronavirus were the next pandemic. Hong Kong confirms their first death due to coronavirus – the second outside of mainland China. Thousand of Hong Kong medical works went on strike, demanding that the border with China be closed.
Update 2/2/2020: Confirmed cases at 17,205 with 362 fatalities. Eastern port city Wenzhou (pop. 9 million) is the first city outside of the central province of Hubei to impose quarantine restrictions. As with Huanggang yesterday, one person per residence is allowed to leave the house every two days to shop for necessities. The US director of the National Institute of Allergy and Infectious Disease, Dr. Anthony Fauci said, "It's very, very transmissible, and it almost certainly is going to be a pandemic. But will it be catastrophic? I don't know." Twenty French citizens evacuated from Wuhan are showing symptoms of coronavirus.
Update 2/1/2020: Confirmed cases at 14,550 with 304 fatalities. The city of Huanggang has banned residents from leaving their homes, in other words a home quarantine for everyone. One person per residence is allowed to leave every other day in order to shop for necessities. Huanggang is the first city to do this after Wuhan. Australia joined the US in temporarily blocking all foreigners who have recently visited China. China also confirmed a case of H5N1 bird flu in Hunan, prompting authorities to cull 17,828 chickens as a precaution. First fatality outside of China occurs in the Philippines.
Update 1/31/2020: Confirmed cases at 11,948 with
259 fatalities. India outlaws the shipping abroad of facemasks and other supplies to fight an epidemic. Russia announces first confirmed cases. A study in The Lancet claims that up to 75,000 might already be infected in the city of Wuhan. Iran cuts all flights to and from China. Some US airlines allowing pilots to decline flights to China. CDC officially quarantines 195 passengers, mostly Americans, who returned from Wuhan, China – first federal quarantine in fifty years. The United States declares a Public Health Emergency nationwide.
Update 1/30/2020: Confirmed cases at 9,821 and 213 fatalities. The number of suspected cases has risen to 15,238. On board an Italian cruise ship, 6,000 passengers have been quarantined after a passenger began showing signs of coronavirus (This turned out to be H1N2 virus). The UK and Hong Kong report shortages of facemasks. WHO says "whole world needs to be on alert now." WHO declares a Public Health Emergency of International Concern. Human to human transmission of the coronavirus in Chicago confirmed by the CDC. A doctor in France has been hospitalized after treating a coronavirus patient, suspected of having contracted coronavirus himself.
Update 1/29/2020: Confirmed cases at 7,811 and 170 fatalities. China's National Health Office suspects another 12,167 cases. Lines for face masks more than a kilometer long in Changhua City. Most shops in Guangzhou are closed and public transit empty. WHO reconvenes emergency committee on the novel coronavirus to decide whether the outbreak constitutes a Public Health Emergency of International Concern.
Update 1/28/2020: Confirmed cases now 6049 with 132 fatalities. North Korea and Mongolia have closed their borders with China. Travel much restricted between Hong Kong and mainland China. San Francisco activated their emergency operation center to prepare for coronavirus outbreak. Thai woman living in India may be first coronavirus death outside of China. CDC issues a level 3 warning to avoid all non-essential travel to China. UK Foreign Office warns Britons to avoid all non-essential travel to mainland China. Hong Kong researchers announce they have developed a vaccine which should be ready in about a year. Japan and Germany confirm that they each have a case of an infected citizen who did not travel to China but was exposed, in their own country, to infected persons through their work. The White House is considering suspending all flights between China and the US. The number of confirmed cases has now surpassed the total of the nine month, 2003 SARS outbreak.
Update 1/25/2020: Confirmed cases now 1400. Wuhan is attempting to build a new hospital in just six days. A doctor working with patients has died from the coronavirus. Many videos, unconfirmed, have shown up on social media showing bodies "piling up" in hallways in Wuhan hospitals.
Summarized at Zero Hedge on 1/24/2020:
Here's a glimpse of new virus-related developments that occurred overnight.

China announces another 15 deaths in Hubei province
Total number of confirmed cases now 1,000+, 41 dead.
China restricts travel for 46+ million people across 16 cities as the death toll surges.
AFP reports that the virus has jumped to Europe, with three confirmed cases now in France.
Two deaths have been reported outside Wuhan.
Some residents displaying symptoms are being turned away from hospitals.
Hospitals in Wuhan make urgent pleas for help and supplies.
Beijing orders PLA medics to assist in Wuhan treating patients
UK and US governments tell citizens to avoid outbreak zones.
63 suspected cases in US, Senator says 3 confirmed, with two reported so far in Illinois and California, and two suspected in Minnesota
South China Morning Post: Wuhan residents describe 'doomsday' scenes as patients overwhelm hospitals
Business Insider: Woman tracked down who gloated on social media about cheating airport detection while returning from Wuhan to France
Organic Prepper: It's Not the Virus You Need to Worry About: It's the System
Alt-Market: The Lies We Are Being Told About The Coronavirus